1. "The Muppet Christmas Carol"

The Muppets perform the classic Dickens holiday tale, with Kermit the Frog playing Bob Cratchit, the put-upon clerk of stingy Ebenezer Scrooge (Michael Caine). Other Muppets — Miss Piggy, Gonzo, Fozzie Bear and Sam the Eagle — weave in and out of the story, while Scrooge receives visits from spirits of three Christmases — past, present and future. They show him the error of his self-serving ways, but the miserable old man seems to be past any hope of redemption and happiness.

2. "It's a Wonderful Life"

George Bailey has so many problems he is thinking about ending it all – and it's Christmas! As the angels discuss George, we see his life in flashback. As George is about to jump from a bridge, he ends up rescuing his guardian angel, Clarence. Clarence then shows George what his town would have looked like if it hadn't been for all of his good deeds over the years. Will Clarence be able to convince George to return to his family and forget suicide?

3. "White Christmas"

After leaving the Army after W.W.II, Bob Wallace and Phil Davis team up to become a top song-and-dance act. Davis plays matchmaker and introduces Wallace to a pair of beautiful sisters (Betty and Judy) who also have a song-and-dance act. When Betty and Judy travel to a Vermont lodge to perform a Christmas show, Wallace and Davis follow, only to find their former commander, General Waverly, is the lodge owner. A series of romantic mix-ups ensue as the performers try to help the General.

4. "Dr Seuss' How the Grinch stole Christmas"

Discover the magic of the Mean One this holiday season! Oscar-winning director Ron Howard and Oscar-winning producer Brian Grazer bring Christmas' best-loved grump to life with the help of the irrepressible Jim Carrey as The Grinch. The Grinch is a celebration of the holiday spirit no home should be without! Why is The Grinch (Carrey) such a grouch? No one seems to know, until little Cindy Lou Who (Taylor Momsen) takes matters into her own hands and turns both Whoville and The Grinch's world upside down, inside out… and funny side up in her search for the true meaning of Christmas.

5. "Home Alone"

Eight-year-old Kevin McCallister (Macaulay Culkin) has become the man of the house, overnight! Accidentally left behind when his family rushes off on a Christmas vacation, Kevin gets busy decorating the house for the holidays. But he's not decking the halls with tinsel and holly. Two bumbling burglars are trying to break in, and Kevin's rigging a bewildering battery of booby traps to welcome them!

6. "The Nightmare Before Christmas"

"This year, Christmas will be ours!" Experience Tim Burton's cult classic with the score by Danny Elfman performed live. When Jack Skellington, Halloweentown's pumpkin king, accidentally stumbles on Christmastown, he plots to bring Christmas under his control by kidnapping Santa Claus and taking over the role. But Jack soon discovers even the best-laid plans of mice and skeleton men can go seriously awry.

7. "Elf"

For his sophomore stab at directing, actor/writer/director Jon Favreau (Swingers, Made), took on this holiday comedy starring Saturday Night Live-alum Will Ferrell. Ferrell stars as Buddy, a regular-sized man who was raised as an elf by Santa Claus (Edward Asner). When the news is finally broken to Buddy that he's not a real elf, he decides to head back to his place of birth, New York City, in search of his biological family. Elf also stars James Caan, Mary Steenburgen, Zooey Deschanel, and Bob Newhart.

8. "Scrooged"

A network TV president is perhaps the most cold-hearted man ever, but his holiday spirit is given a painful booster shot by three vengeful ghosts. In this darkly comic updating of Charles Dicken's Christmas classic "A Christmas Carol," Bill Murray portrays Frank Cross, an evil, crass, executive who caters to the lowest-of-the-lowest common denominators, firing people whenever he wants to and for the flimsiest of reasons. Therefore, to change his cruel and tasteless ways, Cross is taken on a trip through his past to his future, accompanied by ghosts David Johansen and Carol Kane, so that he can achieve redemption.

9. "Miracle on 34th Street"

Miracle on 34th Street is an irresistible fable that has, for many, become synonymous with celebrating Christmas. The holiday season is in full swing when a cultured gentleman with twinkling eyes, an ample belly, and snowy beard (Edmund Gwenn) is hired as Macy's department store Santa. He claims his name is Kris Kringle, and soon fills everyone with Christmas spirit — except his boss, Doris Walker (Maureen O'Hara), who's raising her daughter Susan (Natalie Wood) to not believe in Santa. But When Kris is declared insane and put on trial, everyone's faith is put to the test as old and young alike face the age old question: Do you believe in Santa Claus?

10. "Die Hard"

Bruce Willi stars as New York City Detective John McClane, newly arrived in Los Angeles to spend the Christmas holiday with his estranged wife (Bonnie Bedelia). But as Mclane waits for his wife's office party to break up, terrorist take control of the building. While the terrorist leader, Hans gruber (Alexander Godunov) round up hostages, McClane slips away unnoticed. Armed with only a service revolver and his cunning, McClane launches his own one-man war. A crackling thriller from beginning to end, Die Hard explodes with heart-stopping suspense.
Never Let iTunes Encryption Ruin Your Christmas Movie Time
After buying or renting iTunes Christmas movies, you may want to enjoy the movies on your big-screen smart TV with your loved ones. However, iTunes movies come with encrypted and can be only played on Apple TV, iPhone, iPad, iPod Touch or PC with associated Apple ID. Smart TVs from Non-Apple manufactures like Hisense, TCL, Sony, LG, Vizio, Roku, Samsung, Haier, etc. can't recognize encrypted iTunes movies in M4V format. The compatibility problem may ruin your Christmas movie time. Never let it happen. TuneMobie M4V Converter Plus is right here for you.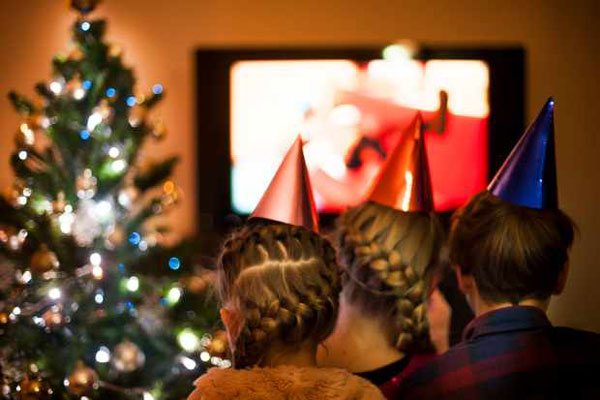 TuneMobie M4V Converter Plus can easily break encryption limitations from iTunes rentals and purchase, convert iTunes movies, TV shows and music videos to unprotected MP4 videos with 100% original quality kept and all multilingual subtitles and audio tracks retained. It's your best companion for enjoying your purchased or rental iTunes Christmas movies on any smart TV freely without any restriction.
How to Enjoy iTunes Christmas Movies on Big-screen TV Freely
TuneMobie M4V Converter Plus is extremely easy-to-use and incredibly fast. It can losslessly convert a bunch of your iTunes Christmas movies in 30X faster conversion speed to MP4, so that you can spend more time with your family.
To enjoy iTunes Christmas movies on big-screen TV freely, simply follow the steps below.
Step 1: launch TuneMobie M4V Converter Plus and iTunes will be launched automatically at the same time.
Step 2: Click "Add Files" button to load your iTunes movie library and add Christmas movies to conversion list.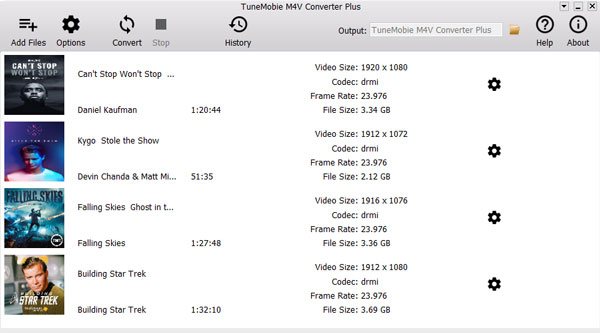 Step 3: By default, program will keep all subtitles and audio tracks. Check the unnecessary ones or simply skip this step.
Step 4: Start converting Christmas movies to MP4 and multimedia encryption will be removed.
Step 5: Copy output MP4 videos to a USB device and plug into Smart TV's USB port, or use streaming devices like Chromecast, Roku or Plex Media Server.
Now, enjoy your Christmas movie time!
Additional Tips
In case you need to play Christmas songs downloaded from Apple Music as background music in your dinner room, we recommend you use Apple Music Converter to solve compatibility problems of Apple Music's multimedia encryption and convert them to MP3 or M4A. If you need to watch iTunes Christmas movies as well as listen to Christmas songs freely, iTunes Converter Toolkit could be the best solution as it includes both M4V Converter Plus and Apple Music Converter and you can get the bundle with less price.