7 Tips to Discover New Music on Spotify

As of March 2018, Spotify has got more than 71 million paid subscribers and a total of 140 million active users. There are more than 30 million songs on Spotify and everyday new songs are added to Spotify's music library. Most people want to get some new music that meets their taste time and time, so how to let Spotify users discover new music conveniently is an important part that Spotify company concerns. Actually, Spotify does well in new music discovery by providing different features.
In this article, we will show you 7 tips to discover new music on Spotify. All the tips can be done within Spotify software itself and there is no need to install third-party plugin or software.
1. Take Advantage of Browse on Spotify
When Spotify is launched, Browse may come into your sight firstly, or you can easily find it on the top of the left panel. With Browse, actually you can find everything Spotify offers. As of March 2018, Spotify divides Browse tab into 3 sections as below.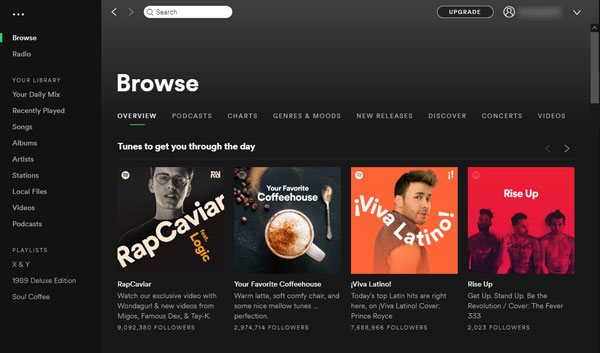 Tunes to get you through the day: In this section, you will see some playlists created by Spotify. Click < or > on the right to scroll. If you close Spotify and come back some time later, you will see "Kick Back" instead.
Entrances: Here are 5 buttons which are Charts, New Releases, Discover, Podcasts and Video. Actually, there are also tabs with same name followed Browse tab. Click the buttons and Spotify will switch to the tabs.
Genres & Moods: In this section, Spotify provides various categories like Hip-hop, Country, Latin, Pop, Workout, Chill, Decades, R&B, Rock, Party, Sleep, etc. If you like songs of certain category or several categores, you can enter the category and try the playlists.
2. Global & Country Top Charts
Click Charts tab and you will see 4 charts by default, which are country top 50, global top 50, global viral 50 and country viral 50. Each top chart refreshes every day. You can switch to other countries where Spotify is available. By using top charts, it's very easy to discover new music in different languages and countries you are interested in. In each playlist, you can see how many times a song is played by checking numbers in the "Daily Plays" column.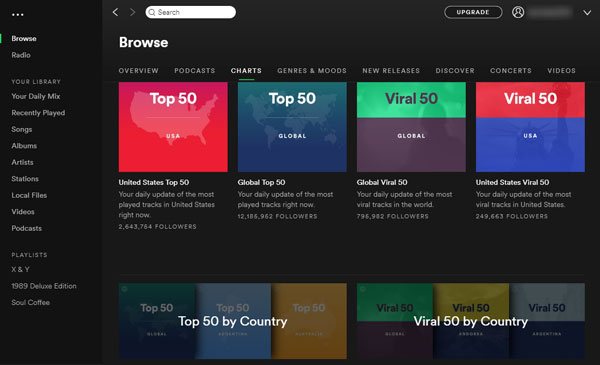 3. New Releases
Just as the tab's name indicates, you can find releases of new songs and albums here. Every single day, there are about 20,000 new songs are added to Spotify's music library. New releases are organized by album, starting with the most recently added. Please note that it's an endless list, you can keep scrolling down and down.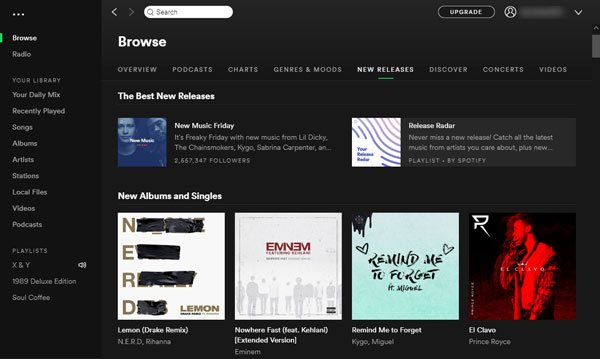 New Music Friday: Every week, Spotify updates their "New Music Friday" playlist, featuring 50 or more of the freshest new tracks hitting the service that week. It is one of the best ways to see what's out, and one of the service's most popular playlists.
Release Radar: Release Radar gives you a weekly playlist of songs culled from new albums, provides listeners with two hours of new music every Friday. It's hyper-personalized playlist of new tracks based on your music taste.
4. Discover Weekly
Click Discover tab and you can see the entrance of "Discover Weekly". It's also a personalized playlist just for you and it refreshes every Monday. The "Discover Weekly" playlist contains 30 old and new songs recommended for you that Spotify thinks you've never heard of based on your listening history. Machine learning technology is used here and the aim of "Discover Weekly" is for like/don't-like testing. So the more songs you listen on Spotify, the more songs in this playlist should be in accordance with your music taste. Sometimes, it may suck but it will surely get better if you use Spotify more frequently. Generally speaking, there won't be same "Discover Weekly" playlist for different users.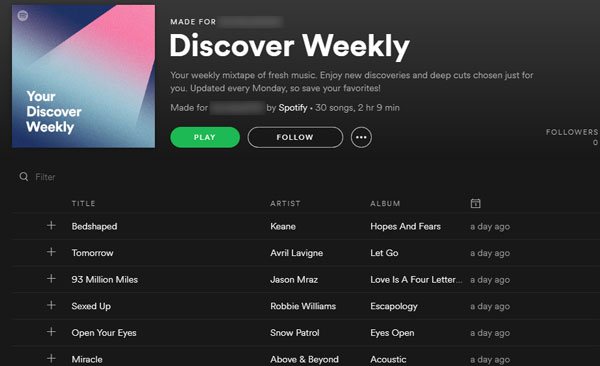 5. Your Daily Mix
On the left panel, under Your Library, you can see Your Daily Mix. As the name indicates, it refreshes every day.
According to Spotify's official description, Daily Mix is based on the different styles of music you regularly listen to, each mix is loaded with artists you love, plus a sprinkling of new discoveries that fit the vibe too. What's more, it grows with you. As your music taste evolves, so does your Daily Mix. You can also like or dislike tracks as you hear them to help Spotify improve the mix.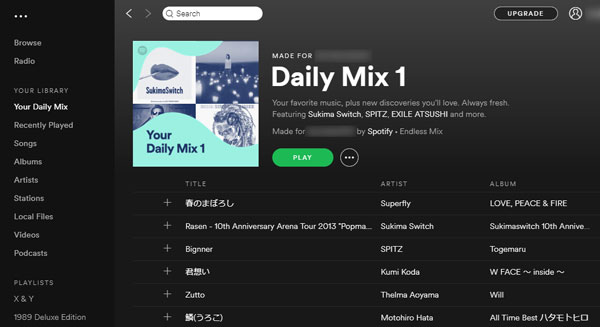 If you like some songs in the Daily Mix, you'd better click/tap Like button in the Now Playing view because Daily Mix continuously updates. You may not able to find the songs back when the day ends if you haven't save your favorites and forgot the song names later.
The feature analyzes your music listening history and creates 1-6 mixes depending on the amount and diversity of your listening. Keep listening and exploring as much as possible to give your mixes more meat. Anybody else won't be able to see Your Daily Mix.
6. Radio Stations
On the top left, you can easily find "Radio". There are 3 kinds of Radio Stations on Spotify which are Artist Radio, Genre Radio and Song Radio. Spotify will also put some recommended stations on the top based on your listening history. Of course, it's not FM radio, it's similar to the way people used to listen to the radio to hear the hottest new songs.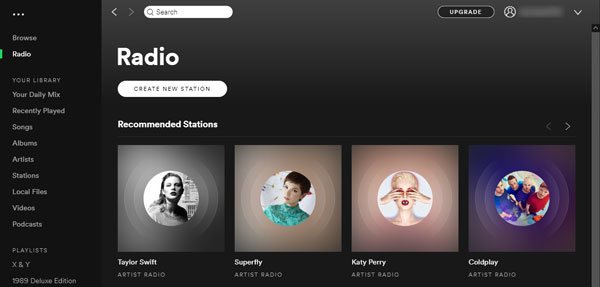 You can also create a Radio station with any song, album, artist, or playlist and Spotify will play music based on that. You can then personalize the station as you listen to make it match your taste. You can also start Radio stations from elsewhere in the app. Just right-click a song, album, artist, or playlist, and select Go to (Song/Album/Artist/Playlist) Radio.
If you want to create a Genre Station, just scroll down and pick what you want. Currently there are 26 genres you can choose, including Blues, Folk, Funk, Latin, Jazz, R&B, Pop, Soul, Hip-hop, 50s ~ 00s, etc.
7. Related Artists
If you are fond of a certain artist, you can view the artist page and you will see "Related Artists" tab. The amount of related artist will differ from artist to artist because it's based on the artist's popularity. Even if the artist is obscure and only known by some users, there will still be some artists listed here for you to explore. Most of time these related artists are within the same genre and have a similar sound.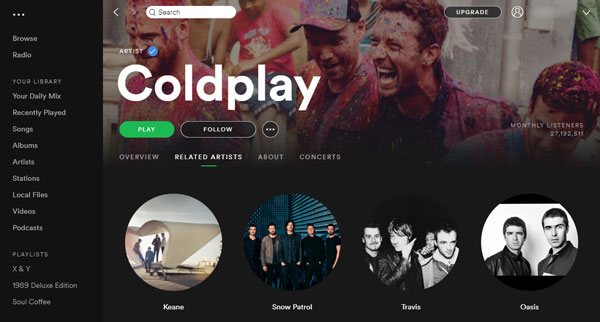 There may be some other useful tips to discover new music on Spotify. But if you make use of the tips above, you should be able to discover new music you like.
You may want to save the discovered new music as MP3 or M4A and enjoy on your iPod Nano/Shuffle, Walkman or MP3 players, but stuck on Spotify's limitations? As you know, Spotify free users are not allowed to download songs for offline listening, while Spotify Premium users can download songs but the downloaded protected Ogg Vorbis files are not compatible with devices mentioned above. To solve such a problem, Spotify Music Converter will be your best choice.
Convert Spotify New Music Discovery to MP3 or M4A to Enjoy on Any Devices Offline
Spotify Music Converter can easily download songs, albums and playlists, including the new music you discovered, to computer and convert to MP3, M4A, WAV or FLAC with ID3 tags kept, regardless of your account type. That is to say, both Spotify Free and Spotify Premium accounts can be used to convert Spotify music to plain and all-purpose audio formats.
Spotify Music Converter supports both Windows and Mac, and is fully compatible with latest Windows 10 and macOS Catalina. You can get the free trial version to have a try now.
Downloading Spotify new music as MP3 or M4A, you can follow the steps below.
Step 1: Launch Spotify Music Converter and Spotify will be automatically launched as well.
Step 2: Drag Spotify new songs, new albums or new playlists from Spotify to the converter, or right-click to get the link and paste in the converter.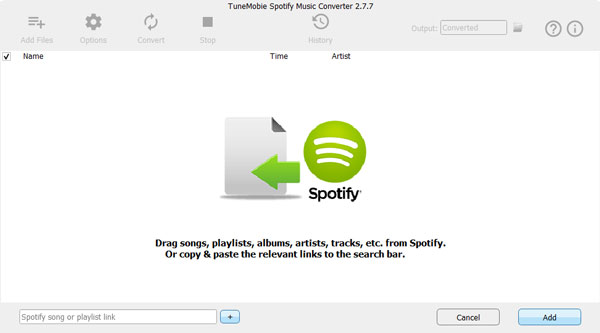 Step 3: Check the songs you want to convert. By default, Spotify Music Converter will check all the songs in the album or playlist you add.
Step 4: Choose output folder and output format in Options if necesary. By default, 320kbps MP3 will be used as default output format.
Step 5: Click Convert button to start downloading Spotify songs, albums and playlists as MP3 or specific audio format. Check the downloaded songs in History tab, click small folder icon to open output folder.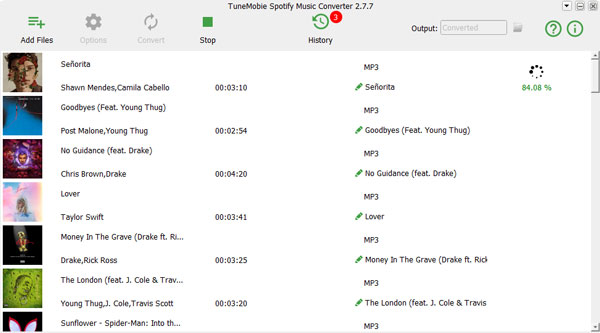 With the tips we provide above, you can easily discover Spotify new music which can meet your music taste. And with Spotify Music Converter, you can easily get rid of Spotify limitations and enjoy your new music discovery on any devices including the ones that Spotify app don't support, like iPod Nano/Shuffle, PSP, Sony Walkman, Sandisk MP3 player, iRiver MP3 player and many more.