Top 10 Spotify Music Converter Recommendation of 2020
No.1 TuneMobie Spotify Music Converter (Windows & Mac)
TuneMobie Spotify Music Converter, as its name indicates, is a dedicated music converter for Spotify users. Actually, it can easily convert Spotify songs, albums and playlists to commonly used MP3, M4A, WAV or FLAC format. All the ID3 tags like song title, album, artist, genre and artwork can be preserved. It can also sort output files into folders by artist, album or artist/album.
The most important thing is that it works with both Spotify Free and Spotify Premium, and audio ads will be perfectly skipped. You can use drag & drop or link copy/paste to add songs, albums and playlists to the converter with ease. Then simply click Convert button to start conversion. Very easy-to-use and intuitive.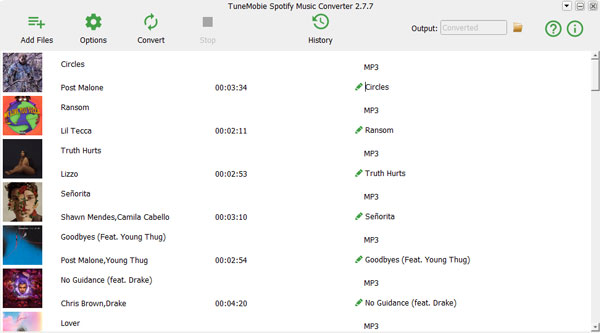 TuneMobie Spotify Music Converter is available for both Windows and Mac, fully compatible with latest Windows 10 and Mac OS X.
No.2 Aktiv MP3 Recorder (Windows only)
Aktiv MP3 Recorder is a recorder that can help users easily record Spotify music. It can save recorded Spotify music to MP3, WAV, AU and AIFF. The audio quality of the output file of Aktiv MP3 Recorder is only normal level, but it is completely free and easy to use. It is suitable for users who have the requirements of simplicity instead of high audio quality.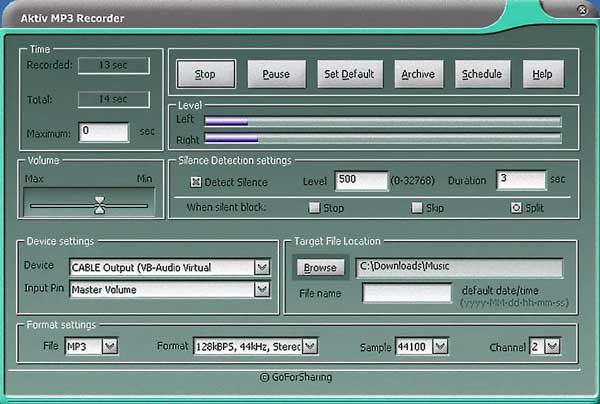 No.3 Allavsoft (Windows & Mac)
Allavsoft can batch download video and music files from YouTube, Spotify, Vimeo, Deezer, etc. It can convert Spotify music to MP3, WAV, etc. in a few simple steps. In terms of interface design, Allavsoft is simple and clear, and users can easily perform a conversion. However, it doesn't work with Spotify and only search songs from other sources instead of Spotify, so many songs on Spotify can't be downloaded.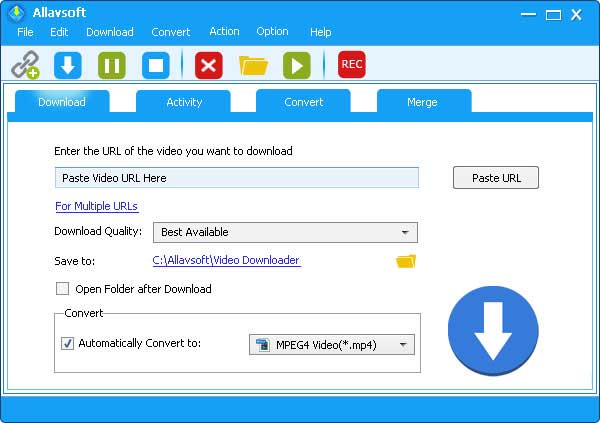 No.4 AllToMP3 (Windows, Mac & Linux)
Practical, small-size and multi-platform available. This is what most users think of AllToMP3. To be precise, AllToMP3 can be used on Windows, Mac and Linux. After testing, our evaluation of AllToMP3 is: useful but not the best. AllToMP3 can convert Spotify music with the bit rate at 256 Kbps, which can satisfy the users who do not mind the audio quality since the original audio quality of downloaded Spotify music is 320 Kbps. Besides, there is only MP3 output.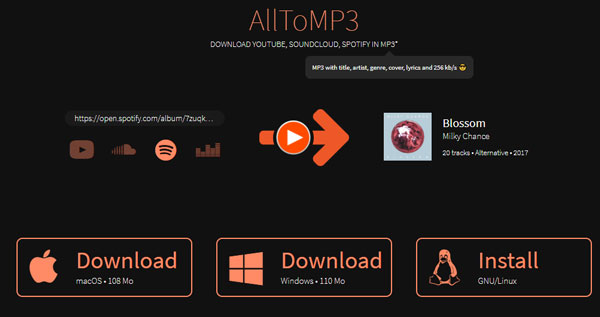 No.5 Free Sound Recorder (Windows Only)
Free Sound Recorder is an invaluable free tool provided for users of any level to record sound from any internal or external source such as Spotify into audio files without hassle. It also has a built-in editor that allows users to add echo, vibrato and other effects in the output file. Its output file format is MP3, OGG, WAV and WMA. Users needs to record Spotify songs manually instead of recording automatically. Besides, ID3 tags can't be preserved.
No.6 Fildo (Windows & Android)
When Fildo was launched, it was an Android app that allowed users to convert Spotify music to MP3. Now, it has launched the Windows version, which can meet the needs of most people, even if it focuses more on the Android version. The audio quality of its converted Spotify songs is not good enough, only normal level, but Fildo is still great for users of Android devices who don't want to make the Spotify to MP3 conversion on their computer.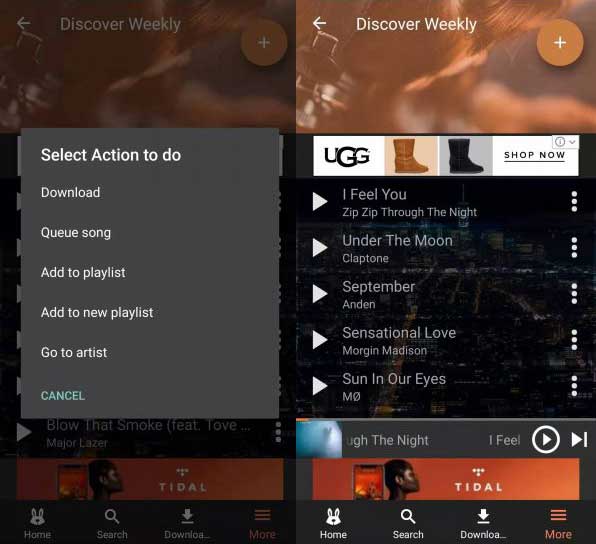 No.7 Spytify (Windows Only)
Spytify is another great Spotify music converter that allows users to convert Spotify music to MP3. Unlike AllToMP3, which can be used on multiple platforms, Spytify only supports Windows 10. This may disappoint many users using other OS, but this does not affect Spytify as a good Spotify music converter. Its conversion is convenient and simple, and it will not occupy too much computer resources. Although the audio quality of the output file is not the best, it is enough to satisfy many users.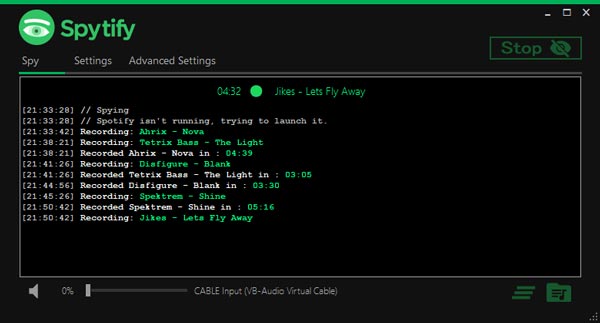 No.8 Spotify Web Recorder (Windows Only)
Spotify Web Recorder is a free, open-source solution for easy recording of songs from Spotify Web Player to mp3 files saved on your hard drive. This program is based on the Spotify Recorder with some useful changes, some interface changed by the developer to work better with the integrated browser and make it easier to use. Both Spotify free users and premium users can convert Spotify music with Spotify Web Recorder.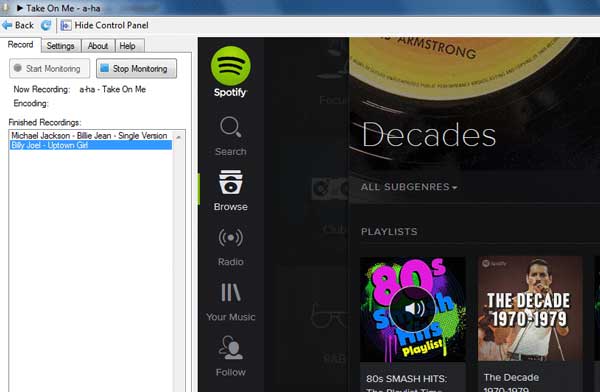 No.9 Spotify & Deezer Music Downloader (Windows & Mac)
Spotify & Deezer Music Downloader is a famous and popular Google Chrome extension that requires no application downloading. Users love to convert Spotify music to MP3 with this useful Chrome extension since it adds a download button in the right of the Spotify Web Player' interface. This is a convenient and smart design that can reduce the operations that users spend on conversion. Because of its convenience and conversion ability, it wins a four-star rating in the Google Chrome Web Store. However, it can only download the Spotify songs which can be matched from other free online libraries with the songs in Spotify. When it can't match, an error button will be displayed and you may encountered this problem frequently.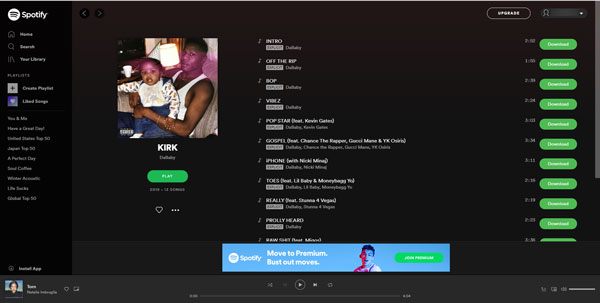 No.10 Apowersoft Streaming Audio Recorder (Windows & Mac)
Apowersoft Streaming Audio Recorder can record Spotify music you use to stream music online and convert it to MP3, WMA, M4A, AAC, etc. Its interface is simple, anyone can easily record the Spotify music they want, but it can't record automatically, you need to start and stop recording manually, which obviously makes the whole process inconvenient and troublesome. As to ID3 tags, only some popular songs can be recognized and preserved. Under most conditions, you need to edit ID3 tags manually.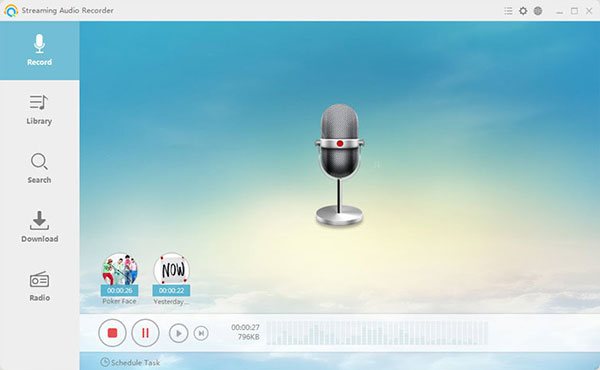 As a conclusion, TuneMobie Spotify Music Converter, which is the one with automatic conversion and ID3 tag preservation, is obviously the best Spotify Music Converter in the list above. Do not hesitate to download this best Spotify Music Converter to have a try.
How to Download & Convert Spotify Music with TuneMobie Spotify Music Converter
Step 1: Download and Install Spotify Music Converter
Click the "Download for PC" or "Download for Mac" button on this page to download TuneMobie Spotify Music Converter depending on the OS you are using. After downloading, please follow the instructions to install the program. The free trial version allows users to convert the first three minutes of each Spotify song.
Step 2: Launch TuneMobie Spotify Music Converter
You can launch TuneMobie Spotify Music Converter on your computer after the installation. TuneMobie Spotify Music Converter and Spotify will be automatically launched at the same time. And then, please click "Add Files" button. Note that do not exit Spotify before the conversion is fully done.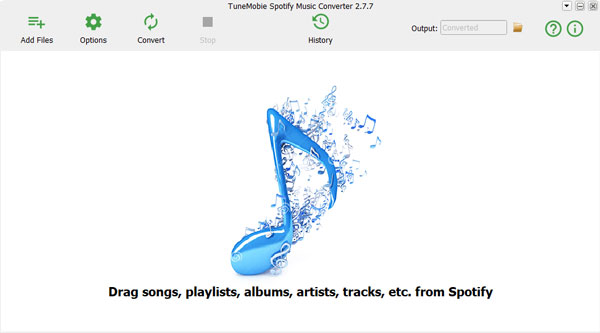 Step 3: Add Your Spotify Songs, Albums or Playlists
You can go to Spotify and copy a link of the song, album or playlist you want to convert, then get back to the converter and paste the link in the link bar. Or you can directly drag the Spotify songs, albums or playlists you want from Spotify and drop them in the converter.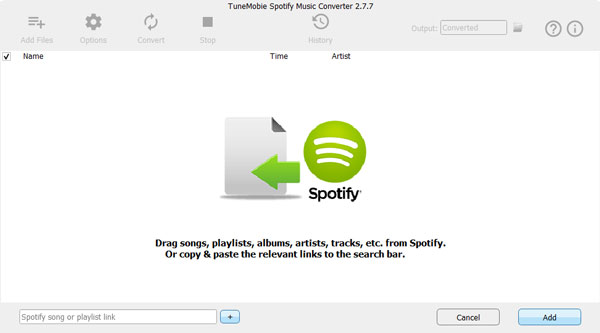 After that, you can see all the songs in the playlists or albums are shown in the main panel. By default, all the songs are checked, but you can also uncheck the ones that you don't want to convert. Click the "Add" button at the lower-right corner to add the songs to the conversion list.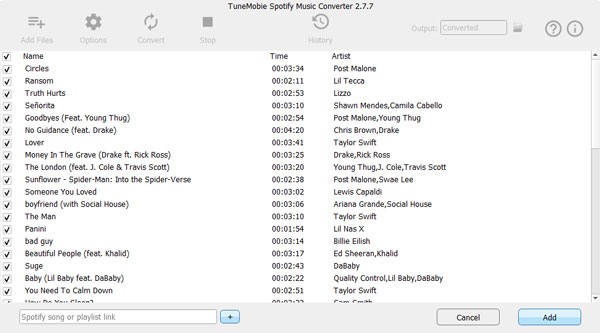 Step 4: Options and Settings
You can click the "Options" button to open the Option window and make changes to the conversion options. You are allowed to set conversion speed, adjust volume, select the output format and output file, etc. in this window.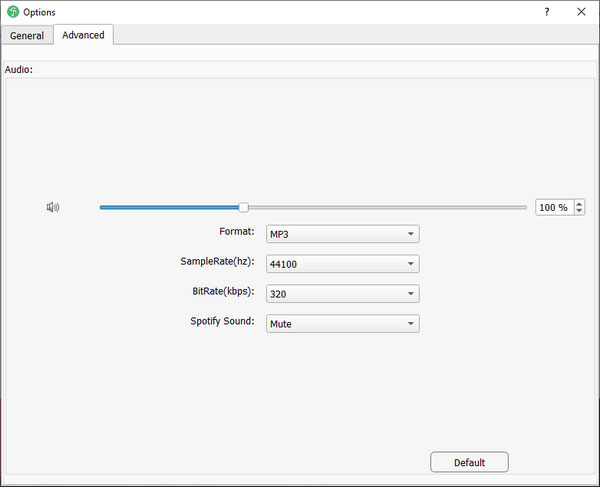 Step 5: Start Converting Spotify Music
When you've set up everything about the conversion and the output files, you can simply click the "Convert" button in the top-left corner to start the conversion.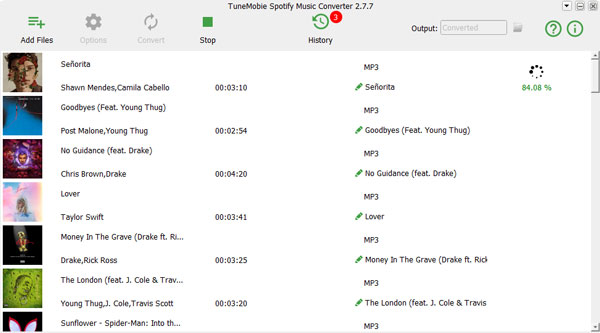 After the conversion, if you want to locate the output files, you can click the "History" button to open the History panel.
Final Words
Have you already selected the Spotify music conversion that suits you best? Although the quality of these 10 best recommended Spotify Music Converters are different, they all can achieve our purpose - convert Spotify songs. TuneMobie Spotify Music Converter has the best software performance, the most complete functions, and the highest conversion efficiency among all the Spotify converters. If you are still hesitating which one to choose, then please believe us and download TuneMobie Spotify Music Converter to try it out.