You Can Enjoy Spotify in Car with These 6 Methods
People have been enjoying music in cars for a long time. In the past, people would place bulky music players in cars to enjoy music. But the advent of car stereo makes this entertainment simple for people. Now, Spotify has become our favorite platform for playing music, and how to play Spotify music in cars has become a problem that people need to solve.
There are currently some ways to play Spotify music directly in the car, but these methods are not completely applicable to all the models of cars. There are reports from users that showed they encountered various problems while trying to play Spotify music in their cars. Let's first take a look at the methods we can use to play Spotify music in the car, and then we will talk about the problems and solutions.
1. Directly Play Spotify in Supported Car
With the development of car built-in operating system, some of the car brands become to have cooperation with Spotify. It means we can now enjoy Spotify music when driving without setting up any connection or installing any program in car. Brands like BMW, Buick, Chevrolet, GMC, Mini, Tesla, Cadillac, Volvo are in cooperation with Spotify, some of their models (not every model is supported for now) can use the Spotify app in the car, just like using it on computer or tablet. You can check if your car is supported on Spotify Everywhere. The methods below could help you if your car is not one of the supported models.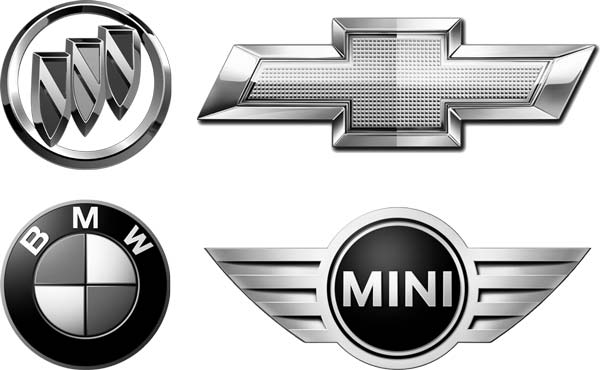 2. Apple CarPlay & Android Auto
You can stream their Spotify music in car with Apple CarPlay stereo or Android Auto stereo. Open the Spotify app on your Android devices or on your iPhone, iPad, iPod Touch first and then connect your device to the Apple CarPlay stereo or Android Auto stereo with a USB cable. After that, you can stream Spotify music, which is convenient.

3. AUX
If you have an Auxiliary cable, then you can directly connect your smartphone to the car with it. Most car are Auxiliary-supported nowadays, the advantage of this method is that you can enjoy Spotify music with better audio quality since it is cable-needed.
4. Bluetooth
One of the well-known and most-mentioned method. Now almost every single car has a stereo that supports Bluetooth. Turn on the Bluetooth feature on your phone and your car, then match them. Once they are matched, you can open the Spotify app and start enjoying music. With this method, you can switch songs by the car stereo or your phone. However, you may not have the best music enjoyment while using Bluetooth to enjoy Spotify music because the audio quality will get lost when using Bluetooth.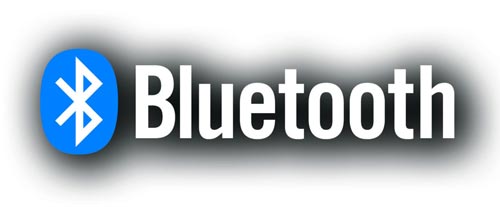 5. Play by CDs
CD player is a classic design of car stereos, many car stereos still keep the CD player while some have abandoned this feature. What's more, playing Spotify music with CDs can perform a great audio quality and you don't need to install applications on your smartphone or car stereo. Yet, if you want to enjoy Spotify in this way, you'll need to convert your Spotify songs to MP3, WAV, M4A or FLAC first.
6. USB Drives
Another famous method. If you think storing Spotify music in CDs is not the best way, you can try to store it in USB drives. Just like using the CDs, import the USB drive that you used to store your Spotify songs to your car, and you can play them freely. However, Spotify downloaded songs are unable to be stored in USB drives, you will also need to convert them to the plain formats.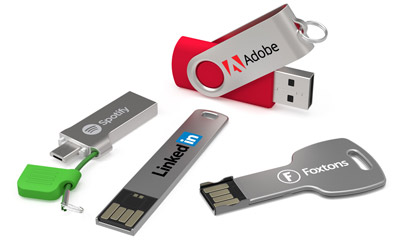 Professional Helper to Play Spotify with CDs & USB Drives – TuneMobie Spotify Music Converter
It is still great and convenient to play Spotify music via CDs or USB drives today. For those who do not have the new-designed car stereo that supports Apple CarPlay and Android Auto, USB drives and CDs are the only way to enjoy high-quality Spotify music. So, TuneMobie Spotify Music Converter could be best and most professional helper you can have, the main features and advantages we listed below will tell you why.
Batch convert Spotify songs from encrypted OGG to plain MP3, WAV, M4A, and FLAC
Original audio quality will be kept in the output files for the best music enjoyment
Reserve ID3 tags like title, artist, album, track number, etc. in output files
Rename the output files in bulk by title, artist, album, track number, hyphen & space
Organize output files by "artist", "album" or "artist/album", clear and easy
TuneMobie Spotify Music Converter supports the latest Spotify app, Windows and macOS
Lucid Guide of TuneMobie Spotify Music Converter
The design and operations of TuneMobie Spotify Music Converter is extremely simple, it won't make it harder for you to play Spotify music in your car. Furthermore, both Spotify premium and free users can download and convert Spotify music with TuneMobie Spotify Music Converter. Now please check the steps below.
Step 1: Launch TuneMobie Spotify Music Converter
Launch TuneMobie Spotify Music Converter on your computer and Spotify will be launched as well. This is because Spotify is needed for the conversion, therefore, please do not exit Spotify until the conversion is completely done. After that, please click "Add File" button from the upper-left corner.
Step 2: Add Music from Spotify to Converter
You can finish this step in two ways. The first one requires you to copy a link of the Spotify song, playlist or album, and then paste it in the link bar at the bottom and click "Add" button.
The second one will be a little bit more convenient. Show the Spotify app and the converter in the same screen and simply drag the Spotify music you want from Spotify then drop it the converter. After 1 or 2 seconds of loading, all the songs will be listed.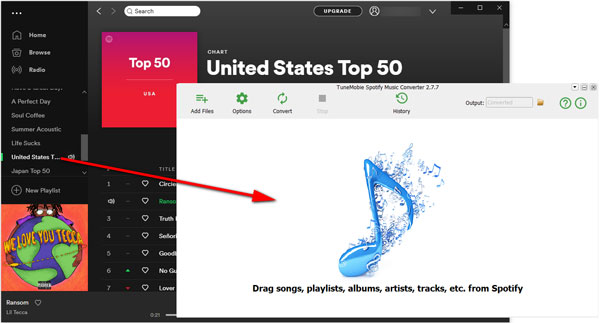 After adding songs with each way above, you can decide which songs are the ones you do not want to convert and select them by unchecking the checkbox of them.
Step 3: Set Conversion Options
at the upper-left corner, there is an "Option" button, you can click it to open the Option window, where you can set the conversion speed, adjust volume, choose output format and make other changes to the conversion. MP3 format is supported by most car stereos so it is the best selection. MP3 format will be chosen by default, so you don't need to make any changes actually.
Step 4: Start the Conversion
When every step above is finished, it is time to start the conversion. Click on the "Convert" button and the converter will get to work immediately. Please be patient and wait for a short time for the conversion to be done.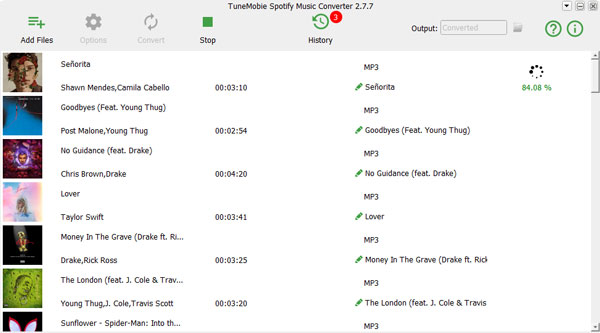 After getting the Spotify music in MP3 format, you can burn the songs to CDs or transfer them to your USB drives. A better and easier car music enjoyment is waiting for you. We believe that Spotify music can bring happiness and pleasure to everyone including the drivers and the passengers. If you've learned a method that suits your needs, you can start enjoying Spotify from now on. If you found TuneMobie Spotify Music Converter is useful to you, please click the button below to have try now.