There Is No Spotify App Designed for iPod Nano & Spotify Ogg Is Incompatible with iPod Nano
In the early time of Spotify, Spotify desktop app could be used to sync songs to iPod Nano, just launch Spotify and connect iPod Nano to computer with USB cable, then you can use Spotify to sync local MP3 songs to iPod Nano. However, such a feature had been removed when Spotify was changed to be a streaming music service.
When searching "Spotify on iPod Nano" or similar phrases, you may find the guide "How to Sync Spotify Music to Your iPod" from dummies.com, however, it is totally outdated. It is misleading users and make users confused when they couldn't figure out how to sync Spotify songs to iPod Nano. In fact, the way was no longer effective.
Spotify user "rafaellourenzo" tried the way mentioned in the guide in vain and then asked on Spotify Community: "Can i sync my iPod Nano with Spotify?", and the marked solution to his question is as below: "Hey there, unfortunately it is not possible to sync any songs from Spotify to the iPod Nano. The feature you are referring to is an old feature of the desktop app that allowed you to sync MP3s to the iPod, however this never allowed you to sync Spotify songs to the iPod. This feature was removed a while ago from the desktop app."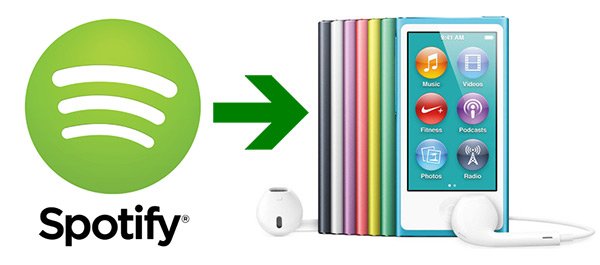 There is no special Spotify app designed for iPod Nano and Spotify iOS app can't be installed on iPod Nano because iPod Nano doesn't come with iOS system. Also, it's known to all that Spotify Free users must have internet connect to stream, and offline listening is one of the privileges of Spotify Premium. However, any songs downloaded from Spotify Premium on Spotify supported devices are Ogg Vorbis files with multimedia encryption and can't be added to iTunes for transferring to iPod Nano. Normal audio converters can't convert Spotify's protected Ogg files neither.
iPod Nano can only play MP3, M4A or WAV songs, so if you want to play Spotify songs on iPod Nano, you need to convert Spotify songs to iPod Nano supported format first. That is why you never miss TuneMobie Spotify Music Converter.
Spotify Music Converter: Software Solution to Convert Spotify Songs to MP3/M4A for iPod Nano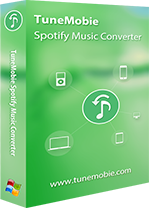 Spotify Music Converter is the best software solution for iPod Nano/Shuffle users who are using Spotify Free or Spotify Premium. It can effortless convert Spotify songs, albums and playlists to iPod Nano supported audio formats like MP3, M4A or WAV, preserve all ID3 tags like song title, album, artist, genre, artwork, year, etc.
Spotify Music Converter works with both Spotify Free and Spotify Premium and you don't have to pay for Premium plan in order to get Spotify music as MP3/M4A. Spotify Music Converter is extremely easy-to-use, and available for both Windows and Mac, and it fully supports latest Windows 10 and macOS Catalina.
As long as you have a stable internet connection, you can download Spotify songs to computer and there won't be advertisement any more. One of the biggest advantage of Spotify Music Converter compared to audio recording software is that you can use Spotify Music Converter to download songs, albums or playlists in bulk, and you don't need to click and click again like using audio recording software.
Now download the free trial version of Spotify Music Converter to have a try. It can convert 3 minutes of each song.
Easy Guide to Play Spotify Songs on iPod Nano with Your Free or Premium Account
Step 1: Launch TuneMobie Spotify Music Converter
Launch Spotify Music Converter and Spotify program will be automatically launched as well. Please keep running Spotify and do not close it during downloading and converting. Click "Add Files" button first and you will see the interface as below.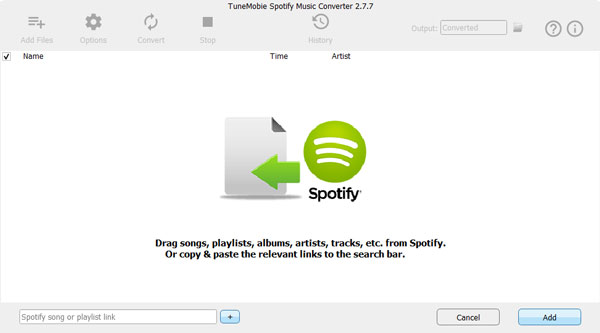 Step 2: Add Your Favorite Spotify Songs, Albums or Playlists
You can easily drag songs, albums or playlists directly from Spotify to Spotify Music Converter, Or you can browse your favorite song, album or playlist in Spotify, and right-click to get the link of the song, album or playlist, then paste the link in the blank area in the bottom of the program and click + or Add button.
Spotify Music Converter will analyze your input and pop up a dialog to ask you to choose what songs to download. By default, all the songs will be downloaded and you can uncheck the songs you don't want to download.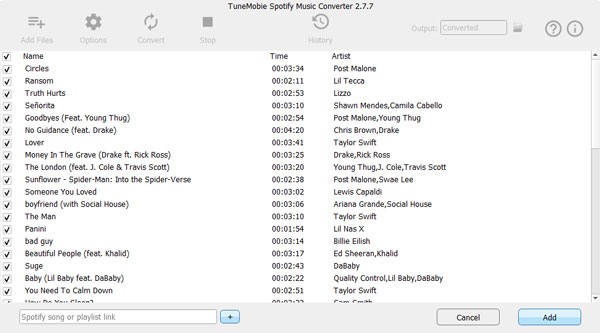 Step 3: Choose Output Music Format for iPod Nano
Spotify Music Converter supports MP3, M4A, WAV or FLAC as output format and MP3, M4A or WAV can be played on iPod Nano. Choose one of them depending on your need. By default, Spotify Music Converter will use 320kbps and 44100hz MP3 as output format. Click Options to change output format in Advanced tab if necessary.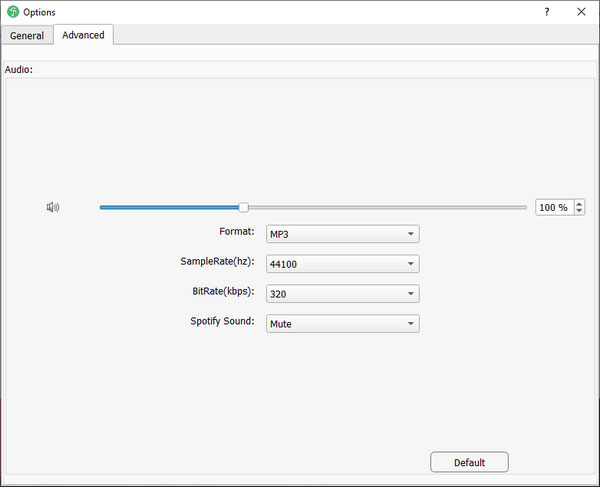 Step 4: Start Converting Spotify Music
Now, simply click Convert button to start converting Spotify music to specific music format. All ID3 tags like song title, album, artist, artwork, etc. in original Spotify songs will be preserved.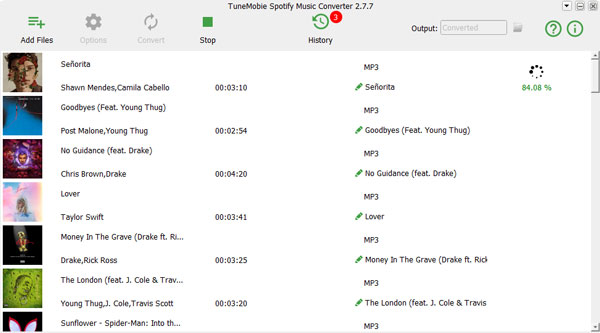 After conversion, you can click History button and open the output folder to locate the output songs.
Step 5: Transfer Downloaded Spotify Songs to iPod Nano
Now, you can connect your iPod Nano to computer with USB cable. Launch iTunes and add the downloaded Spotify songs to iTunes library, create a playlist and add the Spotify songs to it, then sync to iPod Nano via iTunes.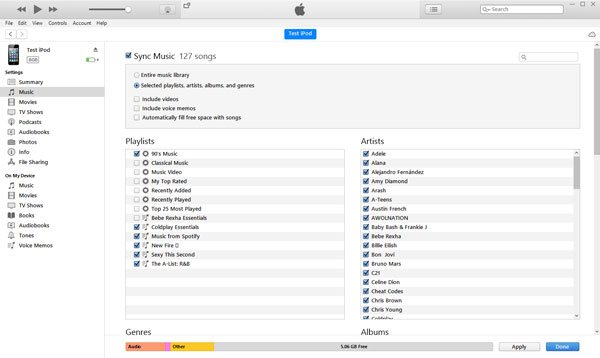 If you don't want to install or use iTunes, there are many iPod transfer programs which can help to transfer local songs to iPod Nano directly instead of using iTunes. Generally speaking, such iPod transfer programs will be much more convenient than iTunes.
By using either way to sync Spotify Songs, you can tap on Music on iPod Nano's screen to play any song converted from Spotify
With Spotify Music Converter, you can not only enjoy Spotify songs on iPod Nano, but also enjoy on other iPod models like iPod Shuffle, iPod Classic and iPod Touch as well as other MP3 players.