Spotify Music Can't Be Transferred to Flash Drives
Spotify is already the most popular music streaming service of the world with its 217 million users. Nowadays, the flash drive is still playing an important role in people's lives after the long development of computer. Everyone who uses a computer should have used a USB flash drive. Thus, it is quite easy to imagine how huge the needs are for people to store and transfer Spotify music via flash drives. But the fact may let everyone down. Spotify has encrypted all the downloaded songs with some special technology, it leads to a result that no one can directly transfer Spotify songs to flash drives for different purposes. Actually, the streaming and downloading services that Spotify provides are more like renting, users are not allowed to copy Spotify songs to flash drives even though you have a Spotify Premium account.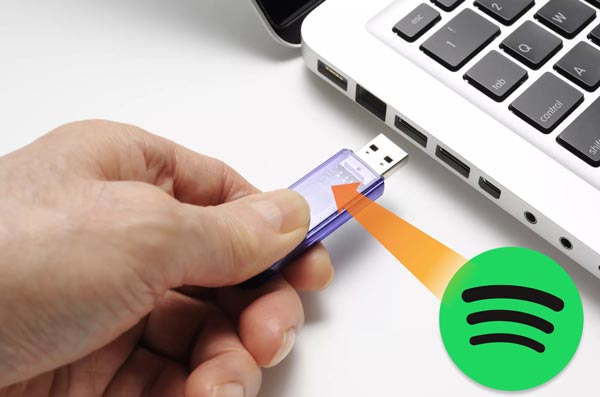 As we know, people would love to play Spotify music on their car stereo. Playing a CD can be a feasible way but it is also inconvenient and be banned by Spotify, playings Spotify songs on car stereos via a USB flash drive could be a better way. What's more, if you choose to store songs in your USB flash drives, you can play them on other computers or TVs freely. It can also help to save space for your computer, it is really a "kill two birds with one stone" situation. However, it seems all these thoughts are not likely to be a reality with the limitations of Spotify. Well, nothing is impossible. There is a software program called TuneMobie Spotify Music Converter which can help all the Spotify users with both Free and Premium account to transfer their favorite Spotify music to flash drives.
Fix the Problem with TuneMobie Spotify Music Converter
TuneMobie Spotify Music Converter is a professional music converter, which was designed to convert all Spotify music from encrypted OGG files to MP3, M4A, FLAC, WAV, which means users can freely transfer their favorite Spotify songs to their flash drives after using TuneMobie Spotify Music Converter to convert Spotify music. Below are some features and advantages of TuneMobie Spotify Music Converter, you can see what it can do and how can it help to fix the problem we mentioned.
Convert any Spotify music from OGG format to plain MP3, M4A, FLAC and WAV
Get output songs with 100% same audio quality as the original Spotify songs
Preserve all ID3 tags like title, album, artist, genre, artwork, etc. in output files
Organize output files with clear "artist", "album" or "artist/album" with ease
Rename output files by title, album, artist, track number, hyphen, space, etc.
Support latest Windows, macOS and both Spotify Free and Premium account
Simple Guide of TuneMobie Spotify Music Converter
Step 1: Launch TuneMobie Spotify Music Converter
Please note that when you launch TuneMobie Spotify Music Converter on both Mac and Windows, Spotify itself will also be launched with the converter and make sure not to exit Spotify when the converter is still running.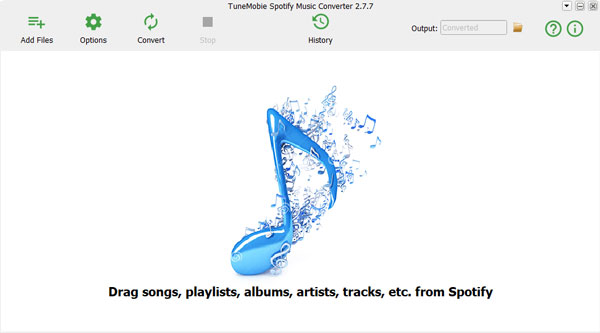 Step 2: Add songs from Spotify to converter
Before conversion, you will need to add Spotify songs to the converter. TuneMobie Spotify Music Converter provides two ways for users to add their Spotify songs, which were "copy & paste" and "drag & drop".
With the first way "copy & paste", you can go to Spotify first and right-click on a song, a playlist or an album to copy a link of it. After getting the link, go back to the converter and press the "Add Files" button. Then you will see a link bar at the bottom, it is the place where you can paste the link. When you finished pasting, click the "+" button and the Spotify music will be added.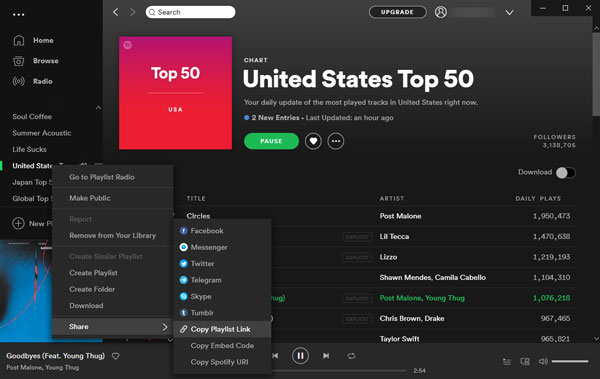 "Drag & drop" will be more convenient. All you need to do is drag songs, albums or playlists from Spotify and simply drop them to the converter, of course you should have shown both Spotify and TuneMobie Spotify Music Converter in the same screen first.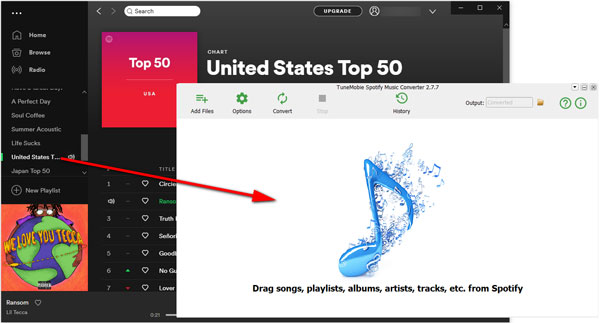 When the songs are added, you can choose which songs are the ones to be converted. By default, all the songs are selected, you can uncheck them by ticking the checkbox of them. If you do not need to uncheck some of them, please click the "Add" button to continue.
Step 3: Set output format and options
There is an "Options" button in the top left corner of TuneMobie Spotify Music Converter. You can click it to open the Options window and make changes on the conversion or the output files such as adjusting the conversion speed, choosing the output folder and choosing the output format for your Spotify songs.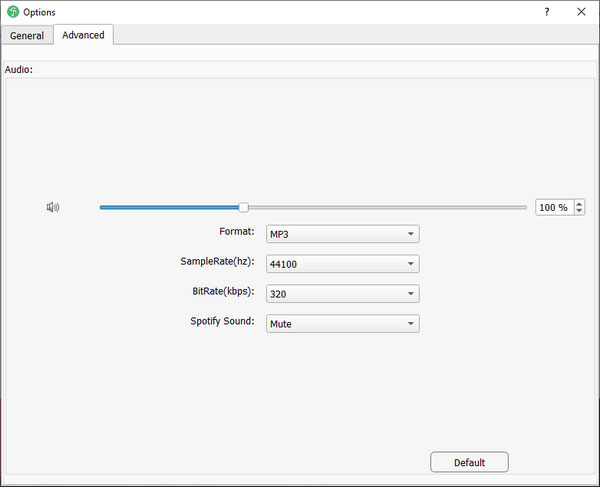 Step 4: Start converting Spotify music
You can now press the "Convert" button to start the conversion when you have set up everything. After a short waiting, you will get the converted Spotify songs as you want. If you want to locate the output files, you can go to the "History" panel by clicking the "History" button and the "Open Output File" button.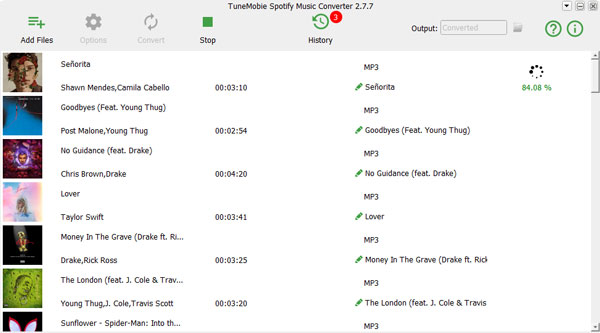 Generally speaking, you can insert a flash drive to your computer and copy all the output files to it with ease now. After that, you can freely play those converted Spotify songs on your car stereo or other audio players that support flash drives.
Final Words
TuneMobie Spotify Music Converter can really help to make your music experience more convenient and flexible. In this article, we have shown the way to convert Spotify music and transfer Spotify music to flash drives for a different music experience. In fact, TuneMobie Spotify Music Converter can do more than this, with the help of it, you can really enjoy Spotify without any limitations and start a wonderful music enjoyment in your life. If I were you, I would immediately click on the button below to try TuneMobie Spotify Music Converter out.