Something You Should Know about Bit Rate and Spotify Audio Quality
At a macro level, bit rate is the number of bits that are conveyed or processed per unit of time. "Bps", short for a bit per second, is a unit of bit rate. In computer use, the common units of bit rate are Mbps, Kbps and so on. It may be a little confusing to read only the macro definition of bit rate, let's talk about a more specific example. In the field of digital multimedia, like using Spotify, if the bit rate of a Spotify downloaded song in 320kbps, then it means that this song stores 320 kb of data per second. Some of you may have known that Spotify streams music at a bit rate of 320kbps and is encoded with OGG format. Another key fact to remember, a higher bit rate means better audio quality, so an OGG format file with a bit rate of 320 kbps, its audio quality is actually high enough.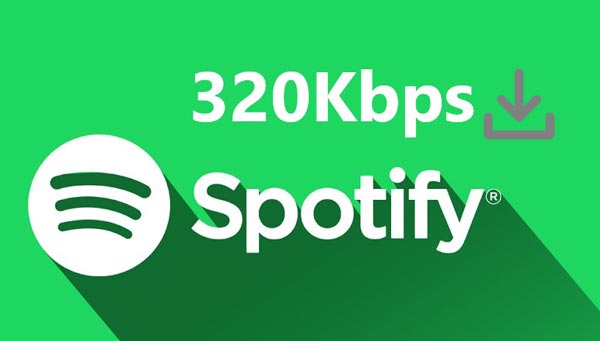 If you compare it to a higher-bit-rate audio file, there is actually no difference in hearing through the human ear. As we all know, Spotify provides users with four levels of audio quality when we stream music with Spotify, which are Low, Normal, High and Very High. If you are using Spotify with a free account, you can choose one from Low, Normal and High, their corresponding bit rates are 24kbps, 96kbps and 160kbps. If you are using Spotify with a premium account, you can enjoy streaming Spotify music with Very High audio quality, which the bitrate is 320kbps. Generally speaking, if you choose to stream Spotify music with the Very High audio quality on your phone, it may consume a lot of cellular data. You can change the audio quality on your phone by tapping the Settings icon > Music Quality, and then choose the one you want.
As music lovers and Spotify users, we certainly want to be able to listen and use Spotify music with the highest audio quality (320kbps) without restriction. But the reality is not the same as we imagined. Subscribing to Spotify premium is the only way to listen to and download the highest quality Spotify music, we are even limited to listening to them on up to 5 different supported devices. At the same time, we can't use the downloaded Spotify OGG audio files in our video editing software, and it is impossible to re-create them. We download Spotify songs with the best audio quality, but can't listen and use freely, this is kind of unacceptable. Therefore, we need a solution, and it should be a professional and reliable one, TuneMobie Spotify Music Converter is currently the ultimate solution to this problem. We can first look at the features of this Spotify music converter.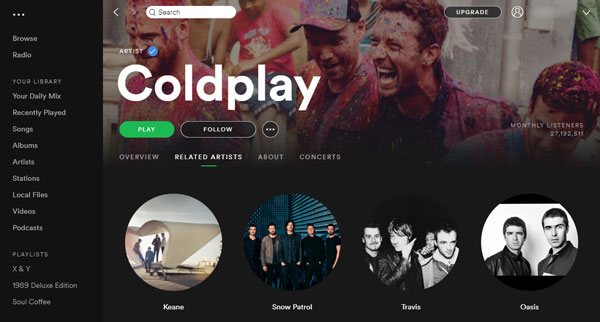 TuneMobie Spotify Music Converter Can Do These for You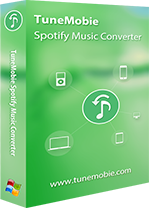 TuneMobie Spotify Music Converter, with its professionality and powerful technologies, can help users to get high-quality Spotify music in MP3, M4A, WAV, or FLAC format. It can contain all the ID3 tags such as title, artist, album, artwork, etc. in each Spotify song. What attracts most attention is its excellent audio quality retention ability, TuneMobie Spotify Music Converter can retain 100% original audio quality (320kbps/160kbps/96kbps) in the converted files. You don't need to worry about the audio quality of the converted files will do any harm to your music enjoyment.
TuneMobie Spotify Music Converter has more features. It provides users with two ways to add Spotify songs and four ways to organize output files. It has a batch conversion function and a built-in search box, which can help users complete the conversion faster and more conveniently. It can run on the latest Windows OS and macOS perfectly, the latest version of Spotify desktop app is also supported. What even more surprising is that the operations of such a powerful Spotify music converter are actually very simple. Anyone who can use a computer can quickly understand how to operate TuneMobie Spotify Music Converter.
How to Use TuneMobie Spotify Music Converter with Ease
Step 1: After installation, you can launch TuneMobie Spotify Music Converter right away. Spotify desktop app will be launched at the same time since it is required for the conversion. For the same reason, please keep Spotify running when the conversion is working. After that, please click the "Add Files" button from the top left corner.
Step 2: You can use the "Drag & Drop" method to add Spotify music, drag the Spotify songs, albums or playlists from Spotify and then drop them into the converter.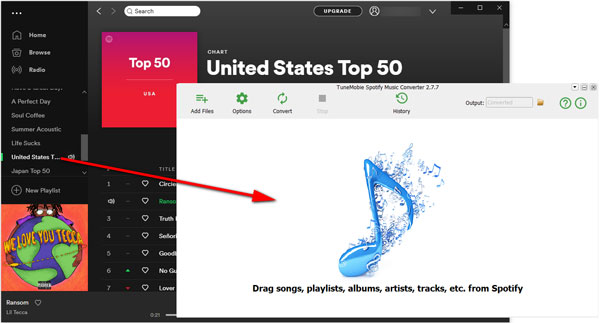 Step 3: You can see an Options button in the top-left corner, click it and you can open the Options window. In this window, you can select the output format, output folder, set conversion speed, adjust volume, etc. The most important thing is you can set the bit rate as 320kbps to get the best audio quality that Spotify can provide in the output files.
Step 4: Once everything is set up by yourself, you can click the "Convert" button in the top-left corner to start the conversion.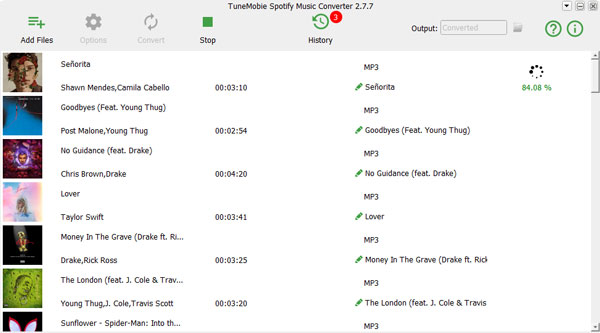 Now everybody can easily get plain Spotify music with high audio quality. To me and many users who have used TuneMobie Spotify Music Converter, it is more than just a converter actually. It is an assistant that can help Spotify users to get better music experiences. Listening to our favorite Spotify songs with the highest audio quality freely, what a beautiful thing to look forward to. If you think this article is useful to you, or you think TuneMobie Spotify Music Converter can meet your needs, please share this article and download TuneMobie Spotify Music Converter after reading.