Top 10 Most Popular Playlists on Spotify
Now that Spotify has access to more than 50 million tracks, even experienced music enthusiasts can hardly find tracks that match their musical tastes from so many tracks with ease. Fortunately, Spotify provides a "playlist" feature. The "Playlist" feature is a feature launched by Spotify for all users to collect, categorize and share music. It is one of the most indispensable features of Spotify.
Users can create a playlist and add their favorite music to it for easy listening and sharing. The official Spotify will also create different playlists and share them with all users. If users have discovered some favorite playlists, they can choose to save these playlists to their Spotify library. This feature greatly saves users' time to discover good music, making Spotify more convenient to use. Below we will show you the top 10 most popular playlists of Spotify. These playlists have the most followers on Spotify. Let's start with the tenth place.
No.10: mint

The tenth most popular playlist is "mint", which is a playlist created by Spotify and summarized in the "Dance/Electronic" directory. It contains 55 electronic dance music, including the music of famous electronic music producers Tiësto, Kygo, Avicii, Martin Garrix and so on. The cover characters of this playlist are DJ D-Sol and Hayley May, this nice playlist has 5,759,091 followers on Spotify.
No.9: Hot Country

The ninth most popular playlist is "Country Hot" consisting of 54 country songs. This playlists owns 5,699,764 followers and it is keep updating. Tracks of the famous country music singers like Kane Brown and Chris Bandi are clooected in "Country Hot". The cover characters of this playlist is Carly Pearce. If you like country music, you will not want to miss this playlist.
No.8: Peaceful Piano

We have "Peaceful Piano" at the place of eighth. This is a wonderful playlists that contains 264 beautiful piano pieces to help every one who listens to this playlist relax and indulge. Total duration of it is 10 hours and 51 minutes, for now, this Spotify-made playlist is having 5,752,497 followers. We think piano lovers or listeners who love peaceful and beautiful music can easily find their favorite music in this playlist.
No.7: Get Turnt

The No. 7 playlist is "Get Turnt", a playlist filled with 100 recently popular Rap and hip-hop music, created by Spotify and currently has 5,552,397 followers. The official description of this playlist on Spotify is: "Mode: Turnt". Turnt means extremely excited, wild, or drunk. It can refer to a person's state of mind, or to an atmosphere, such as at a party. If you like this musical atmosphere, you will fall in love with "Get Turnt".
No.6: All Out 80s

The sixth place on this list belongs to "All Out 80s", it has 6,891,623 followers and it is also created by Spotify. There are 103 songs in the entire playlist, which are all the wonderful songs from the 80s. The total length of it is7 hours and 24 minutes. "The Winner Takes It All" from the ABBA, "Take On Me" from a-ha and "You Give Love A Bad Name" from Bon Jovi are included in it. Its official description on Spotify wrote: "Dramatic, diverse to the sometimes ridiculous-here is the 80's."
No.5: Rock Classics

In this playlist, 150 most classic rock songs for decades have been included. As its official description says, "Rock legends and epic songs spanning decades that continue to inspire generations." That's why this playlist created by Spotify has 7,395,976 followers. You can enjoy music of the Queens, the Eagles, Guns N' Roses and other famous rock bands/singers in this "Rock Classics" playlist.
No.4: All Out 00's

The 100 best songs of the decade since the 00s were included in this "All Out 00s" playlist created by Spotify. The total duration is 6 hours and 36 minutes. In these 6 hours and 36 minutes, you can review the most classic and popular songs from 2000 to 2010. In this era of rapid music development, music genres such as electronic music, hip hop music And indie rock became popular, the followers of "All Out 00s" are 8,041,186. You can find the musical memories of the 00s here.
No.3: ¡Viva Latino!

This Latin playlist created by Spotify is constantly being updated, and has 10,549,892 followers, ranking third on this list. Because it is updated frequently and the songs it collects are great, this makes it the third most popular playlist on Spotify. If you are a fan of Latin songs, you can enjoy 53 wonderful Latin songs here. If you are exploring good music playlists, then you cannot ignore this one. After listening to the songs in it, you will realized how wonderful this playlist is.
No.2 : RapCaviar

This rap playlist has 12,643,070 followers and 54 wonderful rap songs. Our favorite rappers such as Eminem, Nicki Manaji, Lil Wayne, etc., their songs are included in "RapCaviar". On February 19th, Pop Smoke was found gunned down in Hollywood hills home. Therefore, the official description of this playlist was also changed to "R.I.P, Pop Smoke" to pay tribute to the rising rap star.
No.1: Today's Top Hits

"Today's Top Hits" has always been the hottest and most popular playlist on Spotify (25,748,031 followers now). Follow this playlist so you can keep up with the world's music trends every day and learn which songs are the most popular at the moment. Currently, Justin Bibber's hit single "Intentions" has reached the top of this playlist. Justin Bibber has also become the cover character of this playlist.
How to Download Spotify Playlists to MP3 with TuneMobie Spotify Music Converter
Users can download and convert all the playlists of Spotify including the top 10 playlists we've mentioned with all ID3 tags retained and 320 kbps bitrate (the best audio quality Spotify can provide) kept to MP3, M4A, WAV or FLAC files even if they are enjoying Spotify for free by using Spotify Music Converter. Batch conversion feature and built-in search box are provided, users can download and convert Spotify playlists at fast conversion speed. In the terms of sorting output files, TuneMobie Spotify Music Converter allows users to sort output files into folder by "Artist", "Album" or "Artist/Album".
Spotify Music Converter is perfectly compatible with both Windows and Mac, and it can run with latest Windows 10 and macOS Catalina. You can download the free trial version and try it now.
To download and convert playlists from Spotify, please follow the steps below.
Step 1: Launch Spotify Music Converter, Spotify will be launched as well and do not exit Spotify until the conversion is done.
Step 2: Directly drag your wanted Spotify playlists from Spotify and drop it into the TuneMobie Spotify Music Converter.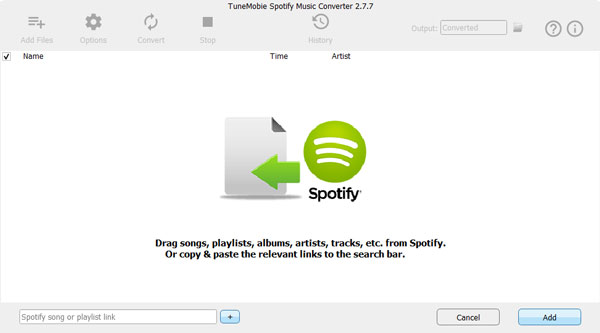 Step 3: Check the wanted songs of yours, if there are some songs you don't want to download, please uncheck the checkbox of them.
Step 4: Select the output format and output folder in the Options window by clicking "Options" button from top left corner, 320 kbps and MP3 format will be selected by default.
Step 5: Click "Convert" button to start downloading Spotify playlists as MP3 or another specific format. You can locate output files in History panel, click "History" button to open the panel.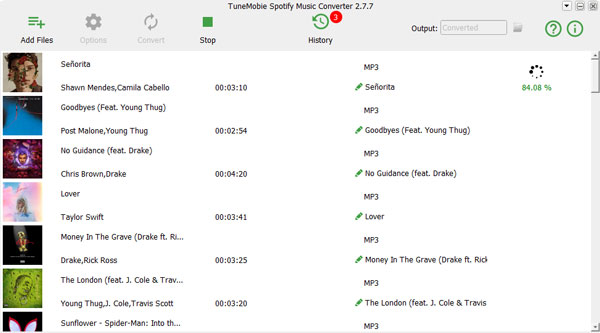 There are other amazing playlists on Spotify, not just the official ones. You can discover some new and hit music by browsing the playlists, or you can check your friends' playlists to see what songs they are listening. After that, if you want to get those playlists as MP3, M4A, WAV or FLAC, you can use TuneMobie Spotify Music Converter to download them. It is a perfect way to enjoy and share Spotify music, you no longer have to worry about falling behind the latest and hottest music trends from now on.