Users can browse and listen to various music playlists created by Spotify. Whether they are sort by genres, different regions or other forms of classification, Spotify keeps providing a lot of excellent playlists for music lovers to listen to. More importantly, users can create their own playlists, classify different music songs according to their preferences, and share them on social media. We can even think that because of the playlist feature, Spotify is more than just a music streaming service application.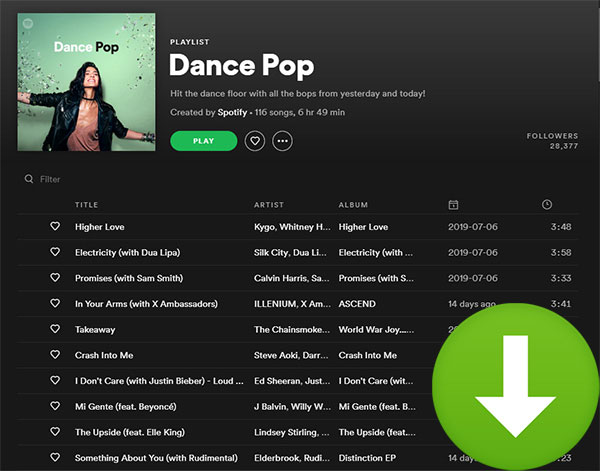 But even such an interesting and useful feature is not perfect. For Premium users, they can download their playlists and listen to them offline on iPhone, iPad or Android devices, for free users, they are even not allowed to download any playlists. Imagine if you want to listen to your Spotify playlists' songs in an environment where is no Internet service, or if you want to listen to them on your iPod, MP3 player or other music devices, but you can do nothing about it, this excellent playlist feature will be ineffective.
Well, in this case, you may need some Spotify playlist downloader to help you with this problem.
General Spotify Playlist Downloaders
No.1 Spotdl
Spotdl can help you convert and download Spotify songs or playlists to MP3, simply copy the Spotify link into the search bar, click the convert button, and your files will be available to download as soon as they are done converting.
It's a free online Spotify playlist downloader, but it also has some limitations like you can download up to 300 songs a month with no metadata (album art, name, album, artist, lyrics, etc.) and limited sound quality of 128kbps when using the free services of it. You can also upgrade to the membership to block these limitations for $5 per month. But its conversion speed is a big problem no matter you are free user or membership.

No.2 AllToMP3
AllToMP3 is a free Spotify playlist downloader program on Windows, Mac OS and Linux. You can download it on its official website and then install it on your computer. Launch the program and you will see a link bar at the top of the main interface, copy and paste the link of your Spotify playlist to it and then press "Enter" to start downloading Spotify playlist to MP3. But just like many general Spotify playlist downloader, its conversion speed is really slow, it took us about 10 minutes to download one song of our Spotify playlist which contains about 20 songs, and it has failed to download the left 19 songs for some reasons.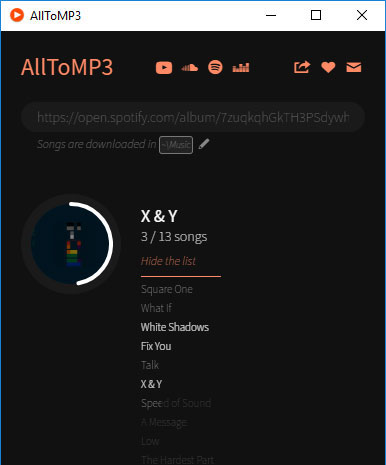 If you're looking for a simple and free downloader that is only used to download Spotify playlists, AllToMP3 can be an option, but its downloads and process may not satisfy you.
TuneMobie Spotify Music Converter: Best Way to Download and Convert Spotify Music to MP3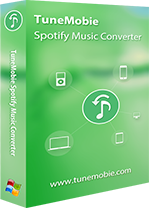 No matter which general Spotify playlist downloader you choose, all of them are having different kinds of limitations or disadvantages. But for now, you can no longer waste time to find any better Spotify playlist downloader, please let us recommend the best downloader and converter of Spotify music - TuneMobie Spotify Music Converter.
TuneMobie is a professional Spotify music converter designed for downloading and converting Spotify music songs, albums or playlist to MP3, M4A, FLAC or WAV for music enjoyment on multiple devices. It is an extremely easy-to-use converter that allows users to convert Spotify songs, playlist or albums with 100% lossless audio quality and keep all ID3 tags like song title, artist, album, artwork, track number, genre, etc. in the output songs reserved. Furthermore, it allows users to sort output files by artist, album or artist/album, users can also add track number to output file name if necessary.
It is compatible with latest Windows 10, Catalina and latest Spotify application. You can easily sync the converted songs, albums or playlist to iPod, iPhone and iPad via iTunes and you can copy them to any MP3 player or even burn the songs to CDs.
Simple Guides of TuneMobie Spotify Music Converter
Step 1: Launch TuneMobie Spotify Music Converter
Launch TuneMobie Spotify Music Converter from the start menu, taskbar or desktop, and Spotify will be automatically launched as well. Note that Spotify should not be shut before the conversion of Spotify playlist is done.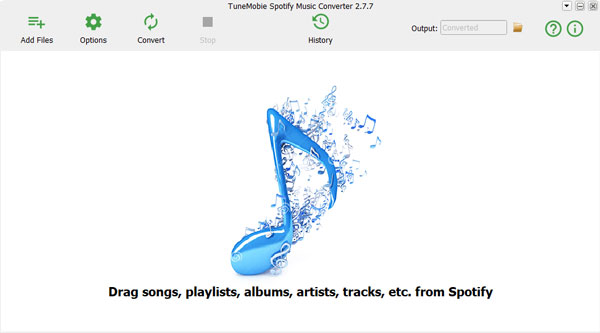 Step 2: Add Spotify Playlists as You Want
Before adding Spotify Playlist to converter, you should display both Spotify and the converter in a screen first. After that you can drag a playlist from Spotify to the converter. And also, there is another way to add your favorite playlist. Just click the "Add Files" button at the top left corner and then you will see a link bar at the bottom. Simply copy the playlist link and paste it in the link bar to add the playlist.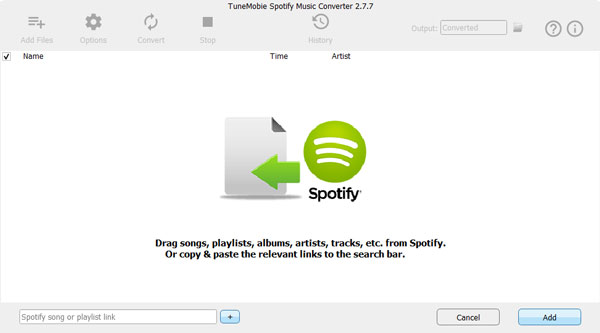 After adding Spotify playlists, click "+" or "Add" button, and the program will start to analyze the playlist links and list all the songs. By default, all the songs will be checked, but of course, you can easily uncheck the ones if you don't want them to be downloaded.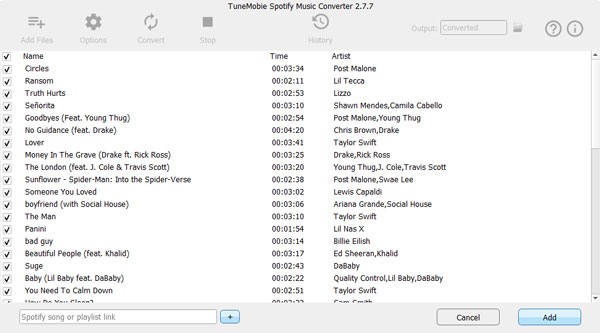 Step 3: Choose Output Format
By default, the converter will use 44100Hz, 320kbps MP3 as output format and you can also change them by opening the "Options" panel, click "Options" button at the top left corner and you will see it.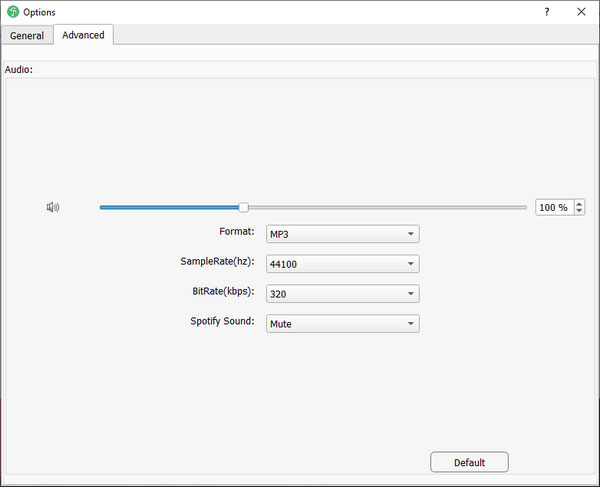 Step 4: Start Downloading Spotify Playlists as MP3
Now everything is ready to be started. After clicking the "Start" button, all the songs you added from your Spotify playlist will be downloaded one by one in a short time. After downloading all the Spotify playlists, you can check downloaded songs and download history by clicking the "History" button.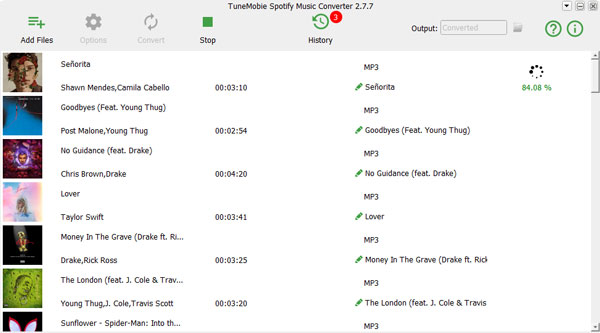 Final Words
Compared to other regular Spotify playlist downloaders, TuneMobie Spotify Music Converter is faster, more stable and more convenient. Its powerful features not only allow you to listen to your Spotify playlist on multiple devices, but also let you share your favorite songs or playlists with your friends in more ways, such as burning CDs instead of share with empty, virtual social media. This Spotify Music Converter can free you from the limitations of Spotify, in some meanings, it also enhances your music enjoyment quality and musical taste. Whether you use it as a Spotify music converter or a Spotify playlist downloader, it will help you and make you feel satisfied, this is what a good software program should be, right?