How can users play Spotify music on iPod Touch?
According to the latest system requirements which Spotify posted on their official website, users can only download and run Spotify App on the 6th generation or above of iPod Touch with iOS10 or above version and at least 250MB space. Which means you will need a 6th generation of iPod Touch with iOS10 (or above) operating system or a 7th generation of iPod Touch to run the latest Spotify App, and obviously, the 4th and 5th generation of iPod Touch is not compatible with Spotify App now.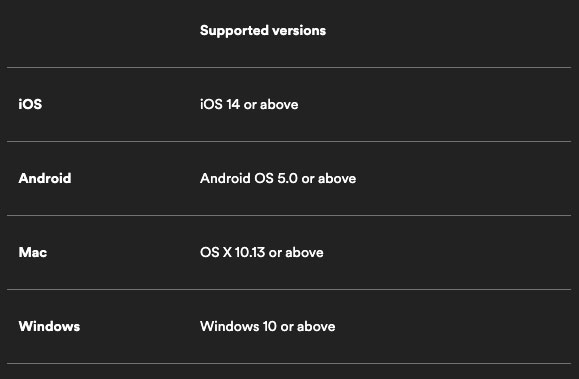 If you are using the 7th generation of iPod Touch, congratulations, you are totally fine to enjoy Spotify music with Spotify App on your iPod Touch. For the 6th generation of iPod Touch's users, they will need to upgrade their device to get compatible with the latest Spotify App, which is a little troublesome.
We believe that many music lovers still using 4/5/6th generation of iPod Touch, which are also the most popular versions of iPod Touches. Since the differences in compatibility between Spotify and iPod Touch, listening to Spotify music on iPod Touch is getting harder and harder. Some may say that we can transfer downloaded Spotify music from PC to iPod Touch, but this method cannot be achieved without the help of a professional Spotify music converter, because of the encrypted OGG format that Spotify is using on their music. In this case, TuneMobie Spotify Music Converter would be the best software solution for all Spotify and iPod Touch users.
What can TuneMobie Spotify Music Converter help?
Get Spotify songs in plain MP3, M4A, WAV or FLAC
Download high-quality Spotify music without Premium subscription
Retain lossless audio quality of each song from Spotify after conversion
Keep all metadata like song title, artist, album, artwork, genre, etc. in output files
Sort output files into folders and rename output files in bulk
Allow users to sort output files by artist, album or artist/album
What's more, it is an extremely easy-to-understand converter and let's find out how to use TuneMobie Spotify Music Converter with ease.
Clear guides of TuneMobie Spotify Music Converter
Step 1: Launch TuneMobie Spotify Music Converter
Find the application or desktop icon of TuneMobie Spotify Music Converter and launch it on your computer. Spotify will be automatically launched so you don't need to launch it manually. Please do not exit Spotify before the conversion is finished.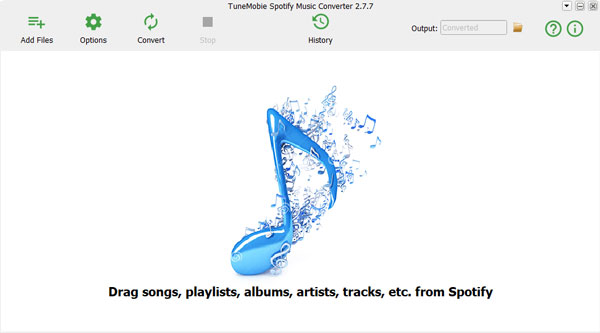 Step 2: Add Spotify songs, albums or playlist
This smart converter provides users two ways to add Spotify music, both of them are easy and suitable for every user. Drag and drop is the usual way to add music, simply drag songs, albums or playlists from Spotify and drop them into the converter. The second way needs you to copy a link of the songs, albums or playlist, press "Add Files" in the converter and paste the link in the link bar which is placed at the bottom of the converter, then click "+" button to add them in.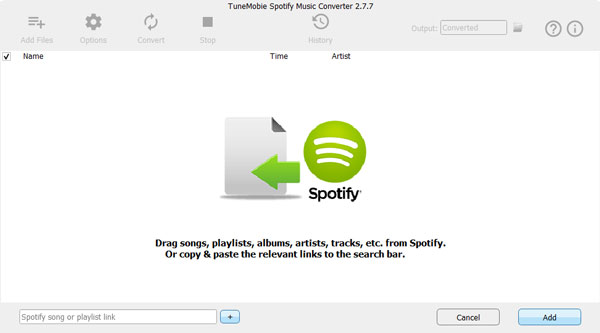 When you have done adding songs, press "Add" button to finish this step, you will see all the songs are listed in the converter respectively.
Step 3: Choose songs and set output format
As you can see, all the songs you added is now placed in the converter. There is a checkbox behind each song, click the checkbox if you want that song to be downloaded and converted, you can also click "check all" if you want to download all your added songs.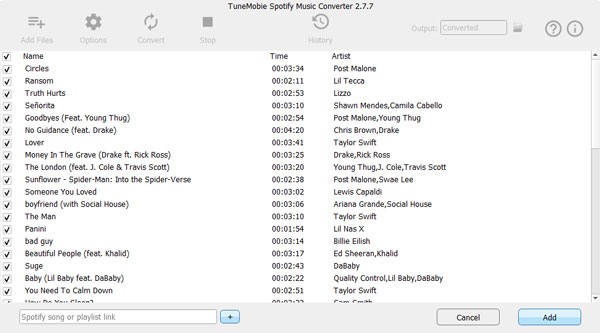 One of the most important and convenient features of TuneMobie Spotify Music Converter is "Options" feature. When you open the Options panel by clicking the "Options" button, you can make changes on output settings such as choose output format between MP3, WAV, M4A, FLAC, and select the output folder. Once you have made your changes, the conversion is all ready to be started.
Step 4: Start downloading and converting Spotify songs
Now just press the "Convert" button and a short time later you will get output files, there is not any obstruct during the conversion so please feel free to start your conversion. After the conversion, you can click "History" button to go to the conversion history list and locate the output files or remove conversion history.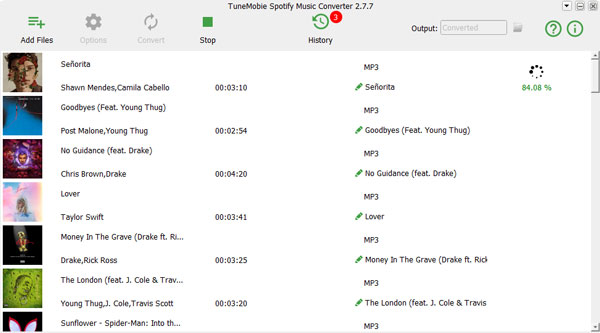 Step 5: Transfer converted Spotify Music to your iPod Touch
You can now launch iTunes and get ready to sync the converted Spotify songs to your iPod Touch. Before this, you should import songs to your iTunes library first. You will need a USB cable to connect your iPod Touch and your computer, create a new playlist that is used to include your converted songs and then you can sync them to your iPod Touch.
When every step is finished, we believe that you are all available to enjoy your favorite Spotify music on iPod Touch.
Final Words
Playing Spotify music on iPod Touch 4/5/6th generation with free or Premium Spotify subscription has never been this easy. We recommend TuneMobie Spotify Music Converter is just because it has powerful features and an excellent conversion performance. Comply with the trend of music lovers who like to enjoy music with Spotify and iPod Touch, trust us, TuneMobie will be a perfect helper in your wonderful musical enjoyment.