Does Your Device Support Apple Music?

Apple Music, the tech giant Apple's music streaming service, was announced on June 8, 2015, and launched on June 30, in over 100 countries worldwide. As of November 30, 2018, there are more than 56 million subscribers and the number is still growing. However, there were some subscribers who regretted the subscription because they found their devices were not supported by Apple Music. So what are Apple Music supported devices and Apple Music system requirements?
Apple ever listed Apple Music system requirements on their official page, but now the page was changed to something else. Fortunately, we have made a backup of the information as below.
iOS 8.4 or later on your iPhone, iPad, or iPod touch. Update your iPhone, iPad, or iPod touch
iTunes 12.2 or later on your Mac or PC. Get the latest version
An Apple TV (4th generation) with tvOS 9.0 or later
An Android phone with Android 4.3 (Jelly Bean) or later and the Apple Music app
Besides, you can play Apple Music on some smart speakers like Amazon Echo, Google Home, HomePod using Bluetooth connection, or play Apple Music in cars using Bluetooth connection, auxiliary input and FM transmitter. You can also play Apple Music songs on over 300+ Apple CarPlay compatible car models.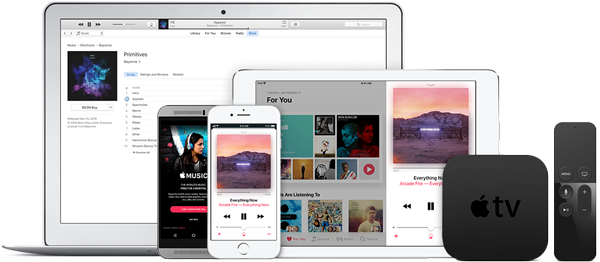 From the list above, we can know that Apple Music is available for PC, Mac, iOS, Android and Apple TV. It seems it covers a wide range of devices, but actually, there are still many devices you can't use to enjoy Apple Music if you subscribe it. Check our complete list below before you subscribe Apple Music.
A Complete List of Apple Music Supported Devices & Unsupported Devices
iPhone
The latest iOS version for iPhone 4 is iOS 7.1.2 while Apple Music requires iOS 8.4. So you won't be able to enjoy on iPhone first generation, iPhone 3G, iPhone 3GS and iPhone 4. You also need to upgrade iPhone 4S, iPhone 5, iPhone 5C, iPhone 5S, iPhone 6, iPhone 6 Plus to iOS 8.4 or later as these models' initial iOS version is lower than iOS 8.4. iPhone 6S or newer models including latest iPhone XS, iPhone XR, iPhone XS Max, iPhone 11, iPhone 11 Pro, iPhone 11 Pro Max come with iOS 9.0 or newer version, so you can enjoy Apple Music on them without any action as long as your subscription is valid.
iPod Touch
The latest iOS version for iPod Touch 4 is iOS 6.1.6, so Apple Music won't be available for first, second, third and fourth generation of iPod Touch. iPod Touch 5th generation's initial iOS version is iOS 6.0, you also need to upgrade iOS system to iOS 8.4 or later. iPod Touch 6th generation naturally supports Apple Music.
iPad
Only iPad first generation can't support Apple Music. Other iPad models including iPad Mini, iPad Air and iPad Pro can support Apple Music. However, many iPad models come with an old version of iOS system, you need to upgrade iOS version to iOS 8.4 or later.
Apple TV
Apple TV 4th generation and Apple TV 4K can support Apple Music while Apple TV 2nd and 3rd generation can't support Apple Music. The first generation ran a modified version of Mac OS X Tiger instead of iOS, Apple Music is also unavailable on it.
Apple Watch
Your Apple Watch can hold up to 2 GB of music all on its own. To enjoy Apple Music on Apple Watch, all you have to do is sync a playlist over from your iPhone. The transfer is wireless and easy.
iPod Nano, iPod Shuffle and iPod Classic
Though iPod Classic, iPod Nano and iPod Shuffle are also Apple devices, iOS system is not running on them. So Apple Music isn't available for iPod Nano, iPod Shuffle and iPod Classic neither.
Windows
iTunes 12.2 is required. But you should know that iTunes 12.1.3 is the latest version for XP and Vista. That is to say, Apple Music is available for Windows 7 or later and unavailable for Windows Vista, XP or older systems.
Mac OS X
iTunes 12.2 is also required. Please note that iTunes 12.2 requires Mac 10.9.5. That is to say Apple Music is available for Mac 10.9.5 or later which are Mavericks 10.9.5, Yosemite, El Capitan, Sierra, High Sierra, Mojave and Catalina 10.15, and Apple Music is not available for Mac 10.8 or older systems including Mountain Lion, Lion, Snow Leopard, etc.
Android Mobiles, Tablets & TVs
For Android devices, Apple Music is only available for Android mobile phones and not available on Android tablets or Android TVs. For any Android mobile phones, Apple Music Android App and Android 4.3 (Jelly Bean) are required. There are so many Android mobile brands like Samsung, Huawei, LG, Xiaomi, Google Pixel, ZTE, Oppo, Vivo, etc., so we can't list one by one. If you are using Android mobile phone and want to subscribe Apple Music, just make sure your Android mobile can meet Apple Music minimum system requirements.
We also recommend you get Apple Music Android app from Google Play. If you are in China and couldn't get access to Google Play, you can use Baidu App Store, Tencent App Gem or other alternative Android app stores in China.
The latest stable release of Apple Music Android app on the Google Play Store is version 2.6.1 and it only supports Android mobile phones. However, According to 9to5Mac report, Apple has introduced more features in the latest beta release of Apple Music for Android V2.7 which is currently only available for beta testers. The signal is apparent: Apple finally decides to support Android tablets. We will update this post when Android tablets are officially supported.
Other Smart Phones
Though Windows Phone, BlackBerry and Symbian also come with smart mobile system, their market share is small and all of them are dying. Apple Music is not available on Windows Phone, BlackBerry and Symbian neither.
Samsung Tizen Mobile Phones
Most Samsung mobile phones are using Android and you can install Apple Music on them. However, Samsung also developed Tizen Operating System, please note that Apple Music is not available on any Tizen mobile phones made by Samsung.
Game Consoles
PSP, PS3, PS4, Xbox 360 and Xbox One could not support Apple Music neither.
Amazon Devices
Fire Phone, Kindle Fire, Fire TV are using Amazon Fire OS which is Android-based mobile operation system. Fire OS primarily centers on content consumption, with a customized user interface and heavy ties to content available from Amazon's own storefronts and services. Apple Music is not available on those Amazon devices. However, Apple Music can be played on Amazon Echo, Echo Dot and other Amazon smart speakers using Bluetooth connection.
Any MP3 Players
Downloaded offline Apple Music tracks are encrypted *.m4p files. Almost all MP3 players can play MP3 and M4A files, but none of them can recognize *.m4p files. So it's no use if you copy offline Apple Music tracks to MP3 players. Here are some well-known MP3 manufactures or devices: Sony Walkman, Archos, Sandisk, Creative Zen, iRiver, Cowon, etc.
Easy Guide to Enjoy Apple Music on Any Devices
We know that all the devices listed above supports MP3 format and most of them support M4A as well. If we can convert Apple Music tracks to MP3 or M4A, then we can enjoy Apple Music on any devices. And this is why TuneMobie Apple Music Converter was developed.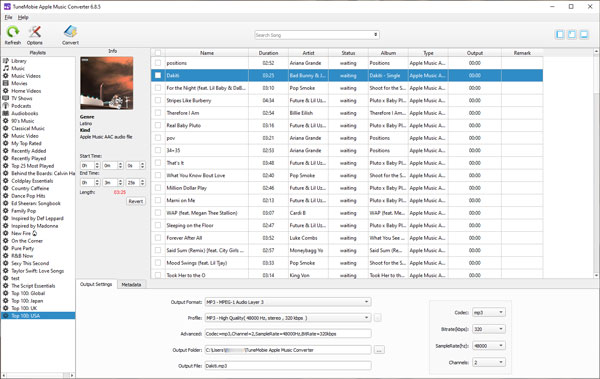 TuneMobie Apple Music Converter can easily convert any Apple Music tracks, including both the tracks you downloaded to PC/Mac and the tracks you haven't downloaded but have added to iTunes library, to MP3 and M4A with ID3 tags, metadata and 100% audio quality retained. TuneMobie Apple Music Converter can be run on Windows 7/8/8.1/10 and Mac 10.9.5 – 10.13 with iTunes installed.
TuneMobie Apple Music Converter is very easy-to-use and intuitive, just follow the steps below and your Apple Music tracks will be turned into MP3 or M4A songs playable on any devices.
Step 1: Launch Apple Music Converter and iTunes or Music app (on macOS 10.15 Catalina or later) will be opened automatically. Do not operate iTunes if the converter is running.
Step 2: Choose any favorite Apple Music tracks or playlists. Built-in search box is available.
Step 3: Choose MP3 or M4A as output format. Choose output quality depending on your need.
Step 4: Start conversion and click "Open Output File" when the conversion is done.
Step 5: Copy output MP3 or M4A songs to your device and enjoy!
With this Apple Music Converter, you can extend the range of Apple Music supported devices to any MP3/M4A compatible devices and enjoy Apple Music tracks without any limitation.
You may be interested in the following guides.