Best Audible Alternatives You Should Have A Try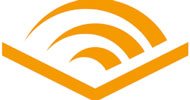 There are some reasons that audiobook listeners may want to find alternatives to Audible. Audible audiobook service requires $14.95 monthly subscription fee, which may be expensive to some listeners who don't listen to audiobooks a lot. It's also possible that some audiobooks are not available on Audible. Another main reason is that Audible audiobooks come with multimedia encrypted and can't be listened when using a normal MP3 player.
So you can try some audiobook services from other producers or providers. But as to multimedia encrypted, there are some software programs which can help you decrypted and convert Audible AA/AAX audiobooks to all-purpose MP3 or M4A you can listen on various MP3 players including iPod Nano/Shuffle, Walkman and MP3 players from different manufactures.
In this article, we will introduce best 10 Audible alternatives to help you get and enjoy best audiobooks, as well as introduce an audiobook converter which can convert Audible AA/AAX audiobooks and iTunes M4B audiobooks to MP3/M4A.
1. Librivox: Free Public Domain Audiobooks by Volunteers
Librivox provides free public domain audiobooks, and all of them are read by volunteers. The books are no longer under copyright and published before 1923. If you would like to join Librivox, you can register an account in their forum and contribute audiobooks in any languages. Librivox audiobooks are in MP3 format, you can download them and play on all kinds of smart phones, tablets and MP3 players. You can burn the audiobooks to CD, share the audiobooks to your family or friend via internet.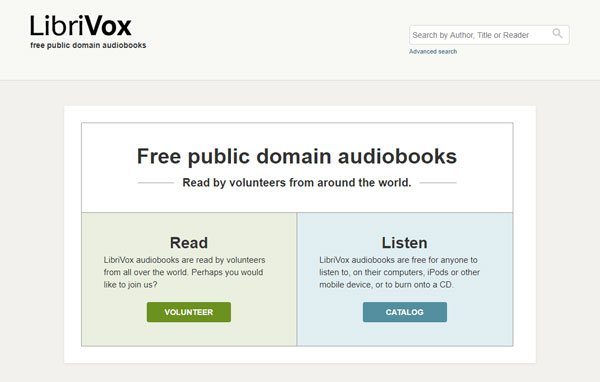 2. Scribd: Unlimited Access to Audiobooks & Books
Scribd is a digital library, e-book and audiobook subscription service that includes one million titles. Scribd hosts 60 million documents on its open publishing platform. From February 6, 2018, Scribd adopted new subscription model and Monthly Credits was no longer required. You only need to pay a subscription fee of $8.99 per month to get full access to books and audiobooks, alongside unlimited access to news, magazines, documents, and sheet music on Scribd.
Scribd app can be installed on iOS and Android devices as well as Kindle Fire HD/HDX, Nook HD/HD+, etc. You can save the books for offline reading when an internet connection isn't available. Besides, readers with other web-connected tablets can use Scribd from the mobile website.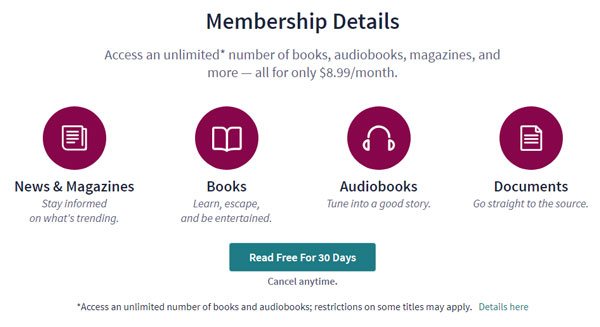 3. PlaySter: Unlimited Access without Paying for Extra Credits
PlaySter is a global subscription-based entertainment service, providing on-demand movies, television shows, music, video games, ebooks and audiobooks. PlaySter can be used in any web browser on a desktop or laptop computer, as well as Android and iOS devices. As to audiobooks, PlaySter can be considered as best audiobook deal on the market. It's similar to streaming music services like Apple Music and Spotify.
The subscription fee of PlaySter Audiobooks is also $14.95 per month. However, with the PlaySter audiobook subscription, you can access to 40,000+ titles without paying for extra credits when Audible, Audiobooks.com, etc. only allow you to get 1 audiobook with the subscription fee. Besides, you can choose Premium plan for audiobooks at $29.95 per month to enjoy unlimited access to 100,000+ of the newest titles made available on the same day they're released.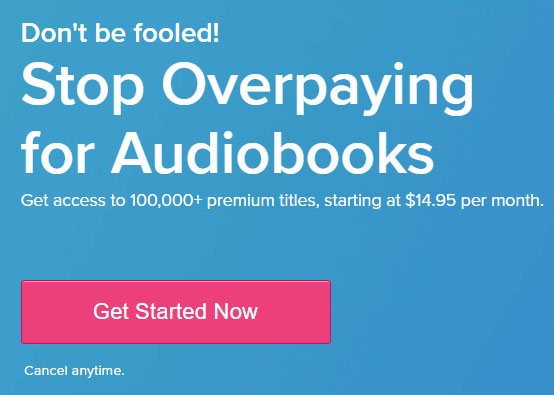 4. Downpour: Decrypted MP3 or M4B Audiobooks
Downpour has more than 30,000 titles and also requires a subscription fee at $12.99 which is a bit lower than Audible. Downpour Membership gives you 1 audiobook per month plus 70% off other titles. Unlike Audible, NookAudiobooks and Audiobooks Now, all the audiobooks from Downpour are unlimited which means that you can enjoy them on all your owned iOS and Android devices with different platforms, as well as various MP3 players from different manufactures without limitation. You can choose MP3 or M4B format depending on your need and you can also burn your audiobooks to CD as you like. Besides, Downpour also provides audiobooks in different formats like digital rentals, CD and MP3 CD.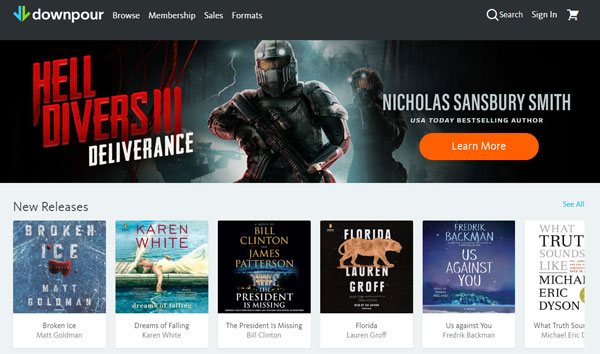 5. Overdrive: Borrow Audiobooks from Local Library for Free
Overdrive belongs to Rakuten, Inc. and distributes more than 2 million ebooks, audiobooks, music, and video titles from more than 5,000 publishers. The company's global network includes more than 30,000 libraries and schools. Overdrive is the right place for you to borrow audiobooks from your local library for free, just add your local library to Overdrive app as long as you have a library card.
There are two ways to enjoy audiobooks with Overdrive. You can use Overdrive Listen to play audiobooks in your browser with an active internet connection and listening progress and bookmarks are stored in the cloud, you can always pick up where you left off no matter what device you're on. Or you can download MP3 audiobooks for offline listening, you can use Overdrive app to transfer MP3 audiobooks to an iPod or MP3 player as well as burn MP3 audiobooks to CDs.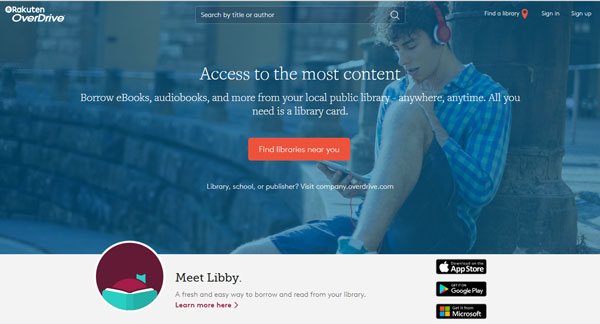 6. Nook Audiobooks: Audible Alternative by B&N
Nook Audiobooks is provided by Barnes & Noble, which is the largest retail bookseller in USA and a leading retailer of content, digital media and educational products. Nook Audiobooks provides more than 60,000 titles and you can listen to the audiobooks seamlessly on iOS and Android devices with Nook Audiobooks App as well as on PC with Nook Audiobooks website. Nook Audiobooks allows listeners to sample any audiobook online for free, and enjoy audiobooks on demand with no subscription required.
Each audiobook comes with a short sample clip which lasts several minutes, to help you assess the narration. This feature is very useful when you're looking for something new, and don't know how the narrator sounds. You can go to Nook Audiobooks website and start sampling any audiobooks you like before purchasing. Nook Audiobooks provides "Nook Daily Find: Today's Great Book at a Great Price" section, which allows you to get an audiobook at a very competitive price in a limited time.
7. Audiobooks Now: Flexible Club Pricing Plans
Audiobooks Now has a selection of over 95,000 titles for you to choose from, However, Audiobooks allows you to subscribe the audiobook service only at $4.99 per month and provide 50% discount on 1 audiobook and 35% - 40% off for everything else, plus a free premium audiobook. You can also join 50% Off 12 Club Plan to receive 50% off any 12 audiobooks and get more privileges.
Audiobooks Now also allows you to play sample before purchasing and enjoy Audiobooks on iOS and Android devices as well as Kindle Fire tablets. It also provides Special section to allow users to get selected audiobooks for a limited time. Besides, "50% off 50" offers Club Pricing members 50% off 50 audiobooks and the section will be updated with 50 new titles each month.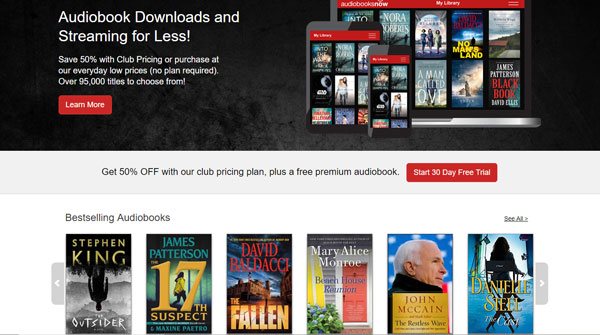 8. Audiobooks.com: Audiobooks or Plans as Gift
Audiobooks.com provides more than 100,000 titles in all kinds of categories and allows listeners to play sample. Audiobooks.com is similar to Audible, requires a monthly subscription fee of $14.95 and allows you to listen to one audiobook for free, you can also enjoy more audiobooks by purchasing top-up credits through the website or claim books instantly using InstaCredit feature in the app when you have no remaining credits in your account.
Audiobooks.com allows you to buy audiobooks as gift to some one else who is also using the same service. Audiobooks.com also allows you to choose 1 month at $14.95, 3 months at $44.85, 6 months at $79.70 (save $10) or 12 months at $149.40 (save $30) as gift for your loved ones. Audiobooks.com also provides free weekly giveaway for first 500 redemptions.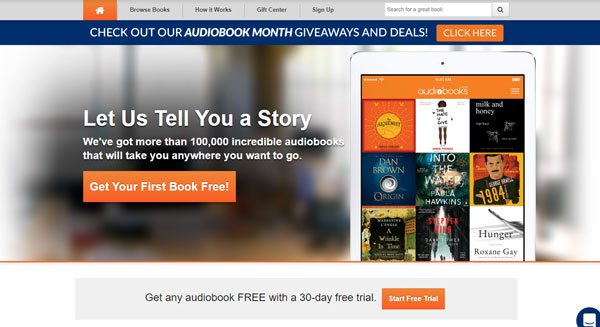 9. Kobo Audiobooks: Cheaper Audible Alternative
Kobo is a Canadian company which sells e-books, audiobooks, e-readers and tablet computers. To enjoy Kobo audiobooks, you can either purchase the audiobooks at original price or pay a monthly subscription fee of $12.99 CAD or $9.99 USD, which is much cheaper than Audible. With a subscription fee, you can get one audiobooks which costs more. Audiobooks from Kobo are in MP3 or MP4 format.
Though Kobo Audiobooks is cheaper, they can be only played on iOS and Android devices and can't be played on desktop PC, Kobo Arc 7, 7HD, 10HD tablets, Kobo eReaders or other brands of eReaders. Besides, Kobo Audiobooks is only available in Canada, the United States, the United Kingdom, Australia, and New Zealand. You can't play samples on PC using browsers either.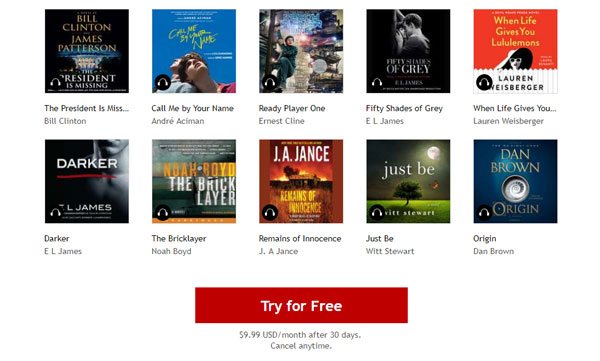 10. iTunes Audiobooks: Exclusive Agreement with Audible Ended
Before January 2017, all iTunes audiobooks are provided by Audible. However, this had been changed by The European Commission. On January 5, 2017, Audible and Apple agreed to put an end to their exclusivity agreement, opening up iTunes to content from other third-party providers. So far, Apple haven't revealed any detailed information about iTunes audiobook providers. But as time goes by, there should be more and more audiobooks from Non-audible companies. So we still count iTunes audiobooks as one alternative to Audible.
There is no subscription fee and you can buy any audiobooks in iTunes whenever you want. You can click Preview button to sample 30 seconds of any audiobooks in iTunes. And after purchasing, you will get encrypted M4B files which can be only played on PC and iOS devices with your Apple ID associated.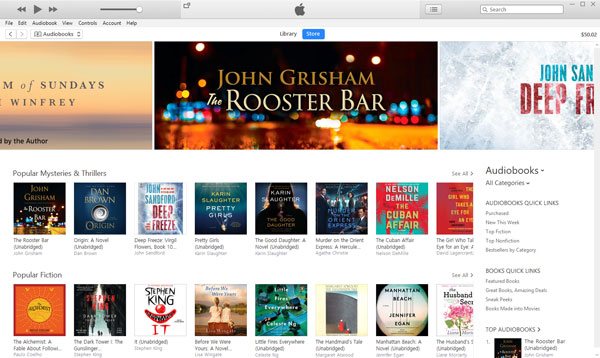 Convert Audible Audiobooks to MP3/M4A & Listen on Any MP3 Players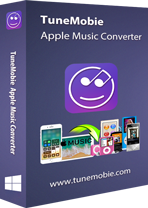 If you are not satisfied with Audible only because of the annoying multimedia encryption, you can use Audible decryption program to convert Audible AA/AAX audiobooks to MP3, M4A, etc. which can be played on various smart phones, tablets and MP3 players.
TuneMobie Apple Music Converter is a combination of Audible AA/AAX audiobook converter, iTunes M4B audiobook converter and Apple Music Converter. It can effortlessly convert Audible AA/AAX audiobooks, protected M4B audiobooks purchased from iTunes Store and unprotected M4B audiobooks added to iTunes library, as well as Apple Music songs and other iTunes compatible audio formats to MP3 or M4A with ID3 tags preserved. When converting Audiobook to M4A, you can also keep chapters retained in output M4A files which will make audiobook listening on devices more convenient.
This professional audiobook converter supports up to 16X faster conversion on Windows 7/8/8.1/10 and Mac OS X 10.9 - 10.12 and 1X speed on High Sierra 10.13 and newer Mac OS. Apple Music Converter is fully compatible with latest Windows 10 and macOS Catalina and help you enjoy favorite Audible audiobooks on any MP3 players without limitation.
The audiobook converter is intuitive and easy-to-use, both experts and novices can convert Audible AA/AAX audiobooks and iTunes M4B audiobooks to MP3/M4A in a few clicks. Just follow the steps below.
Step 1: Make sure your Audible audiobooks have been added to iTunes library successfully, or your iTunes M4B audiobooks have been downloaded to iTunes library successfully. Close iTunes before running the program.
Step 2: Launch TuneMobie Apple Music Converter and iTunes will be opened automatically.
Step 3: Click Audiobook playlist in the left panel and choose the audiobooks you want to convert to MP3/M4A for your MP3 player.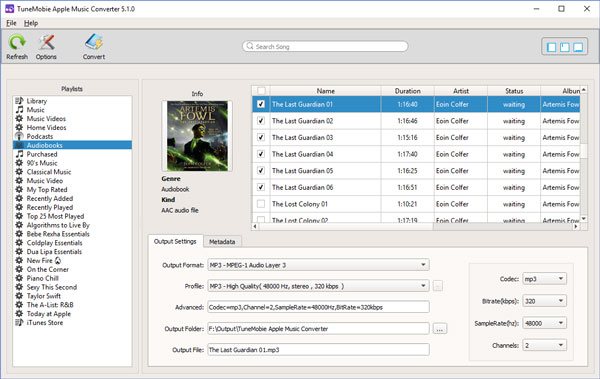 Step 4: Choose MP3 or M4A in output format list. M4A is recommended as you can check "Keep chapter info (Only works with M4A files)" in Options which may be more convenient for listening.
Step 5: Now click Convert button to start audiobook conversion and click "Open Output File" to get the output files.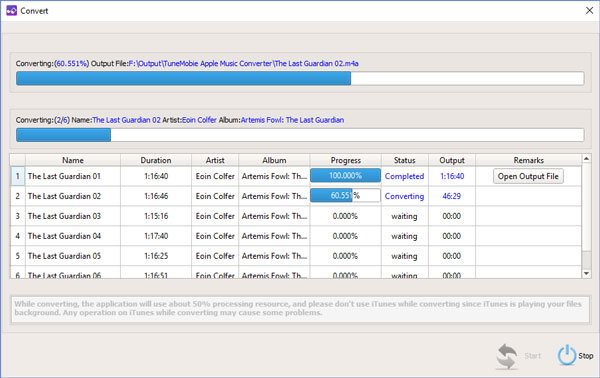 Now, you can transfer output MP3/M4A to your devices and enjoy listening without limitation. Download this powerful audiobook converter to have a try.