People Choose Google Drive to Store and Share
When the powerful file storage and synchronization service – Google Drive was first launched on April 24, 2012, many Google fans and computer users had shown great interest in it, many Apple Music subscribers had also noticed Google Drive. Some may think it would be great to store and share Apple Music tracks with Google Drive since Google Drive provides free online storing space with 15 GB and it also incorporates a system of file sharing. This means users are not only able to store 15 GB of Apple Music tracks in Google Drive but also be able to share those tracks privately with particular users having a 'oogle account, using their @gmail.com email addresses or share with anybody who doesn't have a 'oogle account via a secret URL link.
What's more, Google Drive is also available for multiple devices. You can upload and sync your files on PCs running Windows 7 or later, Macs running macOS X Lion or later, Android devices running Android 4.1 or later, and iPhones & iPads running iOS 8 or later. Users can even use Google Drive on its official website without downloading an app. As we mentioned above, Google Drive gives every user 15 GB free online storage, but in fact, users can store over 15 GB of files in it since 'oogle One, 'oogle Docs, 'oogle Sheets and 'oogle Slides files do not count towards the storage limit. Besides, Google Drive also offers a paid service that allows users to expand their Google Drive storage by subscribing, the subscription prices are $1.99/month ($20.99/year) for 100 GB, $2.99/month ($29.99/year) for 200GB, $9.99/month ($99.99/year) for 2TB, $99.99/month for 10TB, $199.99/month for 20TB and $299.9/month for 30TB.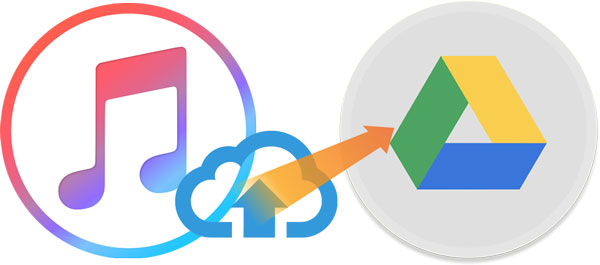 Because of the convenience and the free 15 GB storage that Google Drive provides, more and more people have chosen to use and subscribe to Google Drive without hesitation except for Apple Music users. A large number of Apple Music users have reported that they are not allowed to upload any downloaded Apple Music Track to Google Drive though they have enough space for storing the tracks. The reason is that Apple Music uses encryption technology in its tracks. These M4P files are not recognized by Google Drive, so they can't be uploaded and stored naturally.
This limitation really makes Apple Music users feel annoyed. Many of them have taken a fancy to the various advantages of Google Drive and are convinced that this is the service they want, but now it is such a result. In order to make users no longer worry about the limitations of Apple music and help more users solve similar problems, TuneMobie Apple Music Converter is developed. It is a useful program that can convert Apple Music tracks to MP3/M4A for users who were restricted. The issue of "Unable to upload Apple Music tracks to Google Drive" mentioned in this article can also be solved easily by TuneMobie Apple Music Converter.
Convert Apple Music Tracks to MP3/M4A and Upload to Google Drive
To upload Apple Music tracks to Google Drive, you will need a computer with iTunes or Apple Music application on macOS 10.15, Google Drive app or web version, TuneMobie Apple Music Converter and a fine internet connection. Now, let's see what are the advantages of TuneMobie Apple Music Converter and what can it do to help
Convert Apple Music tracks to MP3/M4A files that can be recognized and uploaded to Google Drive
Keep 100% original audio quality in each converted Apple Music track
All ID tags will be retained in the output files, just like the original tracks
Freely rename and sort output files by ID tags and special characters like hyphen, space, underline, etc.
Conversion will be completed in a short time because of 16X faster conversion speed
Perfectly run on multiple devices including the latest macOS 10.15 and Windows 10
Simple Guide for Uploading Apple Music Tracks to Google Drive
After reading this guide, you will find it is absolutely simple and clear to use TuneMobie Apple Music Converter and upload the converted Apple Music tracks.
Step 1: Launch TuneMobie Apple Music Converter
You will find TuneMobie Apple Music Converter in your desktop or launchpad after installation, just click it to launch it. When the converter is launched, iTunes or Music app (on macOS 10.15 Catalina or later) will also be launched, please do not close it until the whole conversion is finished.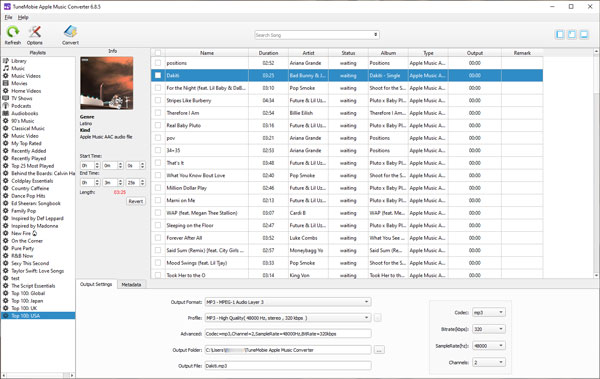 Step 2: Choose Apple Music Tracks You Want to Upload
In the left panel, you can see all the media in your iTunes library are placed as playlists, you can find and choose the Apple Music tracks that you want to upload to Google Drive by clicking the playlists. If you want to convert and upload a batch of tracks, you can click the top checkbox to choose all the tracks in a playlist. A built-in search box is available when you want to locate any track.
Step 3: Choose Output Format & Settings
At the bottom panel, you can choose the output format for your tracks, we recommend that you should choose MP3/M4A as output format since Google Drive viewer on the web allows MP3 and M4A file formats to be viewed though Google Drive supports almost all popular audio formats. But if you want to convert your Apple Music tracks to some formats else, TuneMobie also provides MP3, M4A, FLAC, AC3, AIFF, AU, AAC as output format.
If you want to make changes to other options, you can click the "Options" button to open the Options window, you can easily set conversion speed, adjust volume, select a way to sort output files in Options window. TuneMobie Apple Music Converter gives users a high degree of freedom in settings.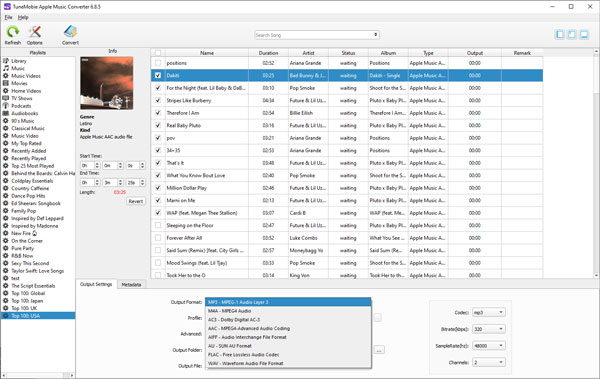 Step 4: Start Converting Apple Music to MP3/M4A
You can press the "Convert" button now if you have set everything up as you wish. After a short time of waiting, all the tracks will be converted and saved in the output folder. To locate tracks, please go to the main panel and click "Open Output File" button.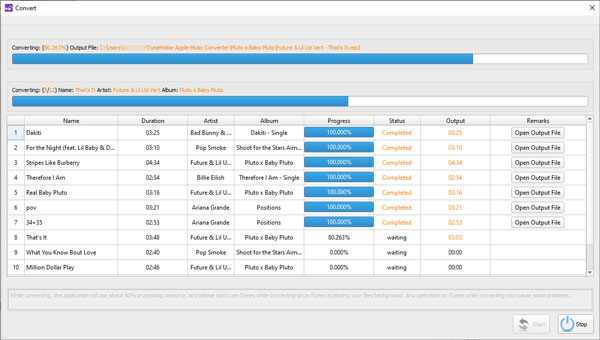 Step 5: Upload Converted Apple Music Tracks to Google Drive
You are free to upload any converted Apple Music tracks by Google Drive app or web version now, here we use the web version as an example.
Click to open: Google Drive Web. Select "Go to Google Drive" and then the page will automatically jump to your personal Google Drive storage. In the top left corner of the page, you will see the "New" button, click it and select "File upload" or "Folder upload" and then you are able to browse and upload the converted Apple Music tracks. The time it takes to upload depends on your current network status.
From now on, you can save the space of your computer and share Apple Music tracks in a privacy and safe way. Since Google Drive is now one of the best and safest cloud storage service in the world, uploading Apple Music tracks to Google Drive is definitely a brilliant way to store your favorite music. With the help of TuneMobie Apple Music Converter, this wonderful idea can be achieved successfully and users also find a way to use their Apple Music tracks for different purpose more than just uploading them to Google Drive. After reading this article, you should really take a serious look at TuneMobie Apple Music Converter and give it a try without any hesitation.